Dark City DVD
Director Alex Proyas is a real visionary. The former music video director proved that he was capable of merging style and substance with his theatrical debut, "The Crow." He takes that talent even further in "Dark City," a brainy science-fiction drama that is so dark it goes beyond noir.
Working with production designers George Liddle, Patrick Tatopoulos, and cinematographer Dariusz Wolski, Proyas has created an alternate universe that is both inviting and foreboding. Movies serve only two purposes: to mirror life, and to transport us to another time and place. "Dark City" does both, thanks to an intelligent screenplay by Proyas, Lem Dobbs and David Goyer.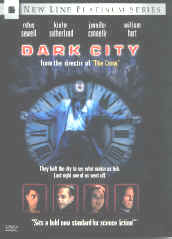 Picture Kafka meets "Bladerunner" with a touch of Stanley Kubrick and you merely just scratch the surface of this highly original vision. We're informed that a group of aliens have arrived on Earth after their race started dying off. They have come to study humans, and have created a city to control their study. Waking up in this world is John Murdoch (Rufus Sewell), whose shattered memory betrays his current state. Finding himself in a cheap motel room with a dead hooker, Murdoch tries to piece together his thoughts, but they're distant and fuzzy.
Did he kill the girl? A phone call from the frantic Dr. Daniel Schreber (Kiefer Sutherland) warns Murdoch to get out of the building before they arrive. They are the Strangers, a group of pasty-skinned aliens who look like they stepped out of a Marilyn Manson video. They want Murdoch, who has somehow gained the alien's ability to mentally alter his reality. On the streets, Murdoch aimlessly searches for the truth, his past, and the one woman he believes he truly loved, the lovely Emma (Jennifer Connelly).
Hot on his trail are the Strangers and police detective Bumstead, who dresses and talks as if he walked out of an old Humphrey Bogart film. It seems that Murdoch is the suspect in a series of prostitute murders, a fact he can't recall. When Murdoch finally catches up with Dr. Schreber, he learns that he and everyone else in the city are test subjects of the aliens, who are trying to tap in to the human soul. How and why they are doing this is one of the film's secrets, so you won't learn anymore here. What I will tell you is that Proyas and his crew have created a stunning alternate world where past and present collide, and characters talk and act accordingly.
The film makers create total immersion, something that has been sorely missing from most recent cookie-cutter films. "Dark City" is a film that takes chances. It addresses as many questions as it leaves unanswered. It requires the audience to buy into the premise, which thanks to film maker's is easy to do. The film is also creepy. It pushes buttons that are guaranteed to make you squirm in your seat, and does so with giddy delight. "Dark City" won't be everyone's cup of tea.
It is dark, and in context with the story, very claustrophobic. Things are not always what they seem, and that may confuse people who had to watch "12 Monkeys" more than once. If you're game, and hungry for a film that will leave you emotionally satisfied, then "Dark City" is a beacon.
COMPLETE CHECK-UP
VISION: [ x ] EXCELLENT [ ] GOOD [ ] RESUSCITATE [ ] D.O.A.
The two-sided disc offers both the full frame and widescreen version, and both are gorgeously rendered. Unless you have a postage stamp-sized television screen, then you'll never use the full frame side. How else are you going to fully appreciate Proyas' majestic vistas? The 2.35:1 widescreen transfer is as good as they get. There's a surreal look to the film, an alternate reality that is never destroyed by compression artifacts or pixelation. The colors are pure and rich. The flesh tones are especially realistic. Director of photography Dariusz Wolski's noir look is complimented by strong blacks that are vital to the chemistry of each scene.
HEARING: [ x ] EXCELLENT [ ] GOOD [ ] RESUSCITATE [ ] D.O.A.
Powerful use of the 5.1 Dolby Digital Surround tracks. The musical score by Trevor Jones totally envelops you. The score gives the Dolby processor a real workout, filling the room with booking basses and cutting the air with sharp, decisive highs. The idea is to surround you while the film transports you to another place and time. It's a total audio and video experience. The dialogue is well mixed. Even during some of the film's most secretive moments, you never have to punch up the volume to hear it. There's also a 5.1 Dolby Digital Surround track in French, plus two audio commentary tracks.
ORAL: [ ] EXCELLENT [ x ] GOOD [ ] RESUSCITATE [ ] D.O.A.
Closed captioned for the hard of hearing in English, subtitles in French.
COORDINATION: [ x ] EXCELLENT [ ] GOOD [ ] RESUSCITATE [ ] D.O.A.
This "Platinum Series" DVD from New Line features some impressive extras. The first thing that catches you attention are the fully animated menus. Jump from section to section, and the character's morph into one another. Real cool. The scene access menu (there are 16 Chapter Stops) features little monitors where you can preview the scene on a small screen in the menu. Real cool. I really liked the fact that I got both widescreen and full screen versions. While I would never watch the full screen version (except a fast scan to check for picture and sound quality), I appreciate having the widescreen version. There's no other way to see a movie in my opinion, and when studios start tossing out DVDs in pan-and-scan version only, they are really missing the point of DVD. Enough said. On to the fun stuff. Most DVD's feature cast and crew bios, but unless you're a real fan, you usually skip these. The "Dark City" DVD has come up with a clever way to get you to visit each and every listing. The "Find Shell Beach" game (you play with your DVD remote and a lot of patience) is an interactive equivalent to a treasure hunt. You must scour the interactive menus and cast and crew bios for hidden clues which will lead to you to a surprise. "Dark City" also features two alternate audio tracks, one featuring film critic Roger Ebert, the other featuring director Proyas, writers Lem Dobbs and David S. Goyer, director of photography Wolski, and production designer Patrick Tatopoulos. Ebert waxes eloquently about his love affair with the film, finding hidden meanings and symbolism in every frame. His observations are interesting if not a little obsessive. Ebert would have been more at home sitting in on the roundtable with the film makers. They are far more interesting and shed much more light on this dark and sometimes disturbing film. Both tracks are worth a listen. Critical comparisons to Fritz Lang's "Metropolis" are made through 1927 reviews by H.G. Wells and The Daily Variety. There's also an essay by Neil Gaiman, a set design portfolio and two star highlight clips of William Hurt ("Lost in Space") and Kiefer Sutherland ("Twin Peaks: Fire Walk with Me"). Both are pivotal scenes from each film. To me, the film is reason enough to own a copy of "Dark City." The extras just increase the value.
PROGNOSIS: [ x ] EXCELLENT [ ] GOOD [ ] RESUSCITATE [ ] D.O.A.
"Dark City" should have a nice, long life on DVD.
VITALS: $24.95/Rated R/96 Min./Color/16 Chapter Stops/Snapcase/#N4657
ATTENDING RESIDENT: John Larsen
PATIENT: DARK CITY
BIRTH DATE: 1998
HMO: New Line Home Video