Dangerous Beauty
A lot of films come and go at the box office so quickly that they have little time to make an impact. Most of them deserve their quick and painless death. Others deserve a look see, while a handful just seem to get lost in the shuffle. "Dangerous Beauty" is one of those films that came and went so quickly most people don't even know it exists, which is a sad thing because the film is one of the year's best.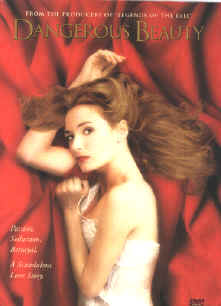 "Dangerous Beauty" failed at the box office because it was a period piece, which most people associate with those long-in-the-tooth Merchant Ivory films. What audience's failed to realize is that "Dangerous Beauty" is a period piece with attitude, told with sharp, witty dialogue against a canvas filled with stunning, gorgeous images.
Based on Margaret Rosenthal's best-selling autobiography, "Dangerous Beauty" stars a luminous Catherine McCormack ("Braveheart") as Veronica Franco, a studious young woman who is something of a firebrand in 16th Century Venice. Veronica watches in horror as her best friend is forced to marry an older man against her will, and then finds solace in the arms of her friend's brother, Marco Venier (Rufus Sewell). Love develops between the two, but it is a love forbidden by Venier's status in the community.
He must marry within his station, which sends Veronica into a major depression. Veronica knows the rules, and understands that since her father drank away the family savings, she too must marry for money rather than love. Veronica's mother (Jacqueline Bisset) eases her pain by letting her know that she has one other alternative: become a courtesan just like her mother was before her. The thought disgusts Veronica at first, but the realization of the power she will have over her situation and other men becomes very inviting. Veronica is trained by her mother (in a scene that reminded me of "Cat Ballou," where the ranch hands help Lee Marvin's character clean up his act) in the fine points of being a courtesan, and before long, Veronica is all dolled up with plenty of places to go.
Veronica's transformation dazzles Marco, who is trapped in a loveless arranged marriage, and all of the other man in Venice, who flock to her boudoir. Veronica is a cash cow, and becomes one of the most popular attractions in Venice next to the canals. When she's not sneaking off with Marco for a freebie, she's servicing the most influential men in town.
While the other women in town talk, Veronica pays the bills and uses her knowledge and prowess to stay on the same playing field as the men in her life. All men except Marco's brother Maffio (Oliver Platt), who yearns for the lovely Veronica but is out of her league. Veronica's decision to close up shop is sidetracked when Italy goes to war against the Turks, and needs France's ships to win the war. That means showing the King of France a good time. The king picks Veronica from a roomful of women, and she obliges to the duty.
This ticks Marco off, but Italy gets the ships, and everyone but Veronica and Marco seem happy. While Marco and the men are off fighting the war, the plague hits Venice, and Veronica is accused by the Inquisition of being a witch. Surprise of all surprises, her accuser turns out to be Maffio, who uses the church to punish Veronica for not returning his love. As written by screenwriter Jeannine Dominy, all of this culminates is an intense trial that pits Veronica against the church, where only her love and the truth will save her from the Inquisition. It's a great, romantic story told with intelligence and playfulness.
The dialogue crackles with witty repartee and tenderness, all delivered with the utmost conviction by a brilliant cast. McCormack is delicious as Veronica, an intelligent woman in a time and place that frowned on such things. McCormack is excellent, mixing vulnerability with an assurance that commands the screen. Rufus Sewell, last seen in "Dark City," couldn't be better than he is as Marco. His wide open, expressive eyes say so much. The supporting cast helps complete director Marshall Herskovitz's vision. Herskovitz uses location footage and computer imagery to create a Venice that only exists in paintings.
It's a gorgeous, color saturated landscape that looks so real you could touch it. Special effects that are seamless are truly special. The production values are the best I have seen, from the exquisite production design by Norman Garwood, the dazzling costume design of Gabriella Pescucci, to the Oscar-worthy cinematography of Bojan Bazelli.
The lush musical score by George Fenton lends a noble ear to the proceedings. "Dangerous Beauty" has it all, including some highly charged erotic encounters that heat up the screen. Look for the film to land on numerous top ten lists at the end of the year. Until then, look for "Dangerous Beauty" at your local DVD retailer and pick up copy for yourself.
COMPLETE CHECK-UP
VISION: [ X ] EXCELLENT [ ] GOOD [ ] RESUSCITATE [ ] D.O.A.
Is it live or is it Memorex? When enthusiasts talk about the quality of DVDs, and they will talk, "Dangerous Beauty" will be best remembered as one of the titles that set the standard for the industry. Forget the bells and whistles, "Dangerous Beauty" is one gorgeous movie that looks just as sensational on DVD. The transfer in both the film's original 2.35:1 widescreen ration and P&S version (on the flip side) is one of the best I have ever seen. The color saturation is overwhelming, showing off the royal blues, the emerald greens, the velvety reds, and flesh tones so lifelike they leap off the screen. The blacks are as solid as they come, while I noticed only a minute trace of compression artifacts that I let slip by because the rest of the transfer is so superior. The film maker's went to great expense to create this colorful canvas, and the transfer respects their effort with integrity. One of the most dazzling digital transfers I have ever seen on a DVD, which has been enhanced at 16:9for widescreen televisions.
HEARING: [ X ] EXCELLENT [ ] GOOD [ ] RESUSCITATE [ ] D.O.A.
"Dangerous Beauty" features two Dolby Digital 5.1 Surround tracks, one in English, the other in French, and they're as expressive and solid as the visual image transfer. My sound system came alive with throbbing basses, trembling high ends, and a stereo split that put me right in the middle of the action. The dialogue mix is superior, one of the best I have ever heard. The surround tracks are filled with distinctive ambient noise, stereo effects and a musical score that takes full advantage of the digital process. No noticeable hiss or distortion, but the pin drop perfect ambient noise might catch you off guard on occasion.
ORAL: [ ] EXCELLENT [ X ] GOOD [ ] RESUSCITATE [ ] D.O.A.
Closed Captions in English and subtitles in French.
COORDINATION: [ ] EXCELLENT [ X ] GOOD [ ] RESUSCITATE [ ] D.O.A.
"Dangerous Beauty" features interactive menus that are as handsome as the film itself. There's also cast & crew bios and filmographies, production notes, and three theatrical trailers in the "Reel Recommendation" section of the Special Features. Aside from the "Dangerous Beauty" trailer, you also get "Body Heat" and "Dangerous Liaison." A nice little extra that ties in perfectly with "Dangerous Beauty."
PROGNOSIS: [ X ] EXCELLENT [ ] GOOD [ ] RESUSCITATE [ ] D.O.A.
"Dangerous Beauty" is both on DVD, and the results are simply splendid. Every DVD collection should include a copy of this breathtaking effort.
VITALS: $19.98/Rated R/112 Min./Color/34 Chapter Stops/Snapcase/#14775
ATTENDING RESIDENT: John Larsen
PATIENT: DANGEROUS BEAUTY
BIRTH DATE: 1998
HMO: Warner Home Video