Damage
When Jeremy Irons is in character, he sure has a way with the women. Whether his character is offing a socialite wife ("Reversal of Fortune"), or plying his pedophile trade ("Lolita"), Irons knows how to play complicated men. His performance in Louis Malle's "Damage" is both bold and intimate.
As Stephen, a British minister on the fast track to the cabinet, Irons plays a man who has it all and still feels empty.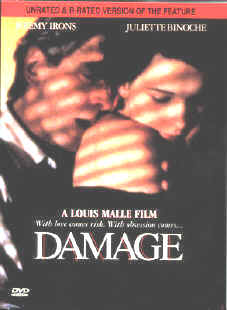 He has a great, caring wife (Miranda Richardson, Oscar-nominated for her role as a wife who understands the games men play but can't bring herself to believe she's been a pawn), a grown-up, successful son (Rupert Graves) and a maturing teenage daughter who knows more than she lets on.
He lives in a comfortable neighborhood in a comfortable house on a comfortable salary. Stephen has so much to lose, and is willing to throw is all away for one brief moment of feeling alive. He gets his chance when he meets Anna (the alluring Juliette Binoche), his son's girlfriend. A mysterious, beautiful woman who works in antiquities, Anna is the beacon of light that Stephen has been searching for. Now we all know if there's one thing you don't do in life, it's shag your son's girlfriend. It's not a hard rule to forget, yet Stephen throws abandon to the wind and engages in an obsessive, passionate affair with Anna.
They meet secretly around town, and Stephen even manages to catch up with Anna while partaking in a summit meeting in Brussels. They even find time to sneak off while the entire family enjoys a weekend in the country.
They're hot to trot, and as their passion grows, so does Stephen's obsession. He finds that he can't live without Anna, so when Martyn (Graves) announces that he and Anna are going to get married, Stephen is crushed. Still, the upcoming nuptials don't deter the couple, who arrange to meet at a secret love nest. Too bad for Martyn that he accidentally comes across the address and drops by unannounced.
Too bad for Stephen, whose indiscretion costs him much more than he ever expected. Too bad for Anna, who seems to have bad luck when it comes to men. Director Louis Malle is at his best when he's telling stories about desperate people. "Atlantic City" is a prime example of this. If "Damage" is hard to watch it's because Malle and his actors have created an uncomfortable reality. The performances are flawless, especially the desperate Irons and haunted Binoche.
"Damage" had some problems with the ratings board, who found Malle's depiction of lovemaking a little too hot for an "R" rated film. The DVD features both the "R" rated and "Unrated" versions of the film, and to truly appreciate Malle's uncompromising vision, you must choose the unadulterated version. "Damage" is a film about obsession and the lengths people will go to in order to fulfill their passion.
The intense lovemaking is necessary to convey that point. However, there is one moment where Irons rolls over during a heavy duty sex scene, and you can see his flaccid member. It completely blows the illusion. What was Anna getting off on? "Damage" is a somber affair, one that requires patience to fully appreciate David Hare's calculated screenplay.
Stephen and Anna rush into their affair almost immediately so that the film maker's would have plenty of time to dissect their relationship and it's effects on their family and friends. "Damage" isn't a great film, but it does leave a lasting impression.
COMPLETE CHECK-UP
VISION: [ X ] 20/20 [ ] Good [ ] Cataracts [ ] Blind
Superb digital transfer in the film's original 1.66:1 widescreen ratio, enhanced at 16:9 for widescreen televisions. The color saturation is warm and excellent, while the blacks seem solid. No noticeable compression artifacts, and the original negative seems free of any wear and tear. The flesh tones are very important, and look extremely natural. Sharp, vivid images bring the dark, moody piece to life.
HEARING: [ X ] Excellent [ ] Minor Hearing Loss [ ] Needs Hearing Aid [ ] Deaf
The Dolby Digital Stereo track is subtle and yet very distinct. The dialogue mix is excellent, while the haunting music and ambient noise quietly creep up on you in a very subtle way. There's nothing overwhelming about the soundtrack, but it is crisp and virtually free of any noticeable distortion.
ORAL: [ X ] Excellent [ ] Good [ ] Poor
Subtitles in English, French and Spanish.
COORDINATION: [ ] Excellent [ X ] Good [ ] Clumsy [ ] Weak
The real treat here is "One on One with Louis Malle," a fascinating and in-depth, behind-the-scenes look at the making of the film. Malle is very articulate in his defense of making a film out of Josephine Hart's controversial novel, and discusses the pros and cons of shooting explicit love scenes with his performers. There's also handsome interactive main and scene access menus, the original theatrical trailer, and cast and crew biographies and filmographies. The DVD also features both the "R" rated and "Unrated" versions of the film.
PROGNOSIS: [ X ] Excellent [ ] Fit [ ] Will Live [ ] Resuscitate [ ] Terminal
The real "Damage" would come in not adding a copy of this devastating tale of obsessive love to your collection.
VITALS: $24.95/Rated R & Unrated/111 & 112 Minutes/Color/16 Chapter Stops Snapcase/ #N4668
John Larsen ATTENDING RESIDENT
ATTENDING RESIDENT: John Larsen
PATIENT: DAMAGE
BIRTH DATE: 1992
HMO: New Line Home Video