Curse of the Jade Scorpion
I like it when Woody Allen is in a playful mood. While I enjoy all of his films, I like the ones that make me smile. "Curse of the Jade Scorpion" made me smile. It wasn't one of those knee- slapping smiles, but a smile nonetheless.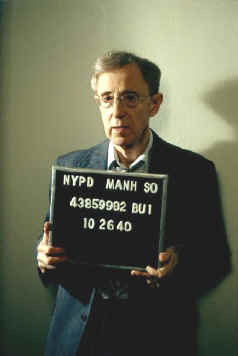 I also like it when Allen is in a caper mood. His caper films, from "Manhattan Murder Mystery" to "Small Time Crooks," have all been delightful diversions. "Jade Scorpion" continues that trend, a frothy little nostalgic comedy about an aging insurance investigator who is beginning to suspect that he's a dinosaur.
Which leads one to wonder if Allen, who also wrote the screenplay, sees a lot of himself in C.W. Briggs. A legend in the insurance business, Briggs reminded me of the gang in "The Wild Bunch." Set in their ways, both are steam-rolled by progress.
Is "Curse of the Jade Scorpion" Allen's attempt to hold on to a formula that has worked for him in the past, even though his films constantly take a beating at the box office against more edgy, younger fare? Or is Allen just having a little fun, parallels be damned. I suspect a little of both.
Indeed, "Curse of the Jade Scorpion" is very traditional Woody Allen, a glossy, handsome production filled with the occasional great one-liner and enough interesting performances to sustain our interest until the final frame. It's not as bubbly as Allen's previous caper films, but it quite entertaining.
Allen, looking a little long in the tooth, is enjoyable as Briggs, an investigator who can find anything except true love. He has his moments, but as fare as romance is concerned, Briggs is married to his job. The extended honeymoon is cut short when the firm hires efficiency expert Betty Ann Fitzgerald (Helen Hunt), a real ball-buster who can't stand Briggs.
Complicating the hate-hate relationship between Briggs and Fitzgerald's is her relationship with their boss, Magruder (Dan Aykroyd), a married man who keeps stringing her along until he leaves his wife. Both Briggs and Fitzgerald could use a night out, so they attend the birthday of a co- worker at a swanky New York nightclub.
It's there where Briggs and Fitzgerald are picked by stage hypnotist Voltan (David Ogden Stiers) to be part of his act. Under hypnosis, Voltan gets the couple to believe they're married, but in reality, he is actually setting the seeds for something more dastardly.
Who better to program to commit an inside job than the insurance investigator who set up the security system and knows all the obstacles? It's a funny premise, a running gag set into motion with the trigger words Constantinople and Madagascar. Whenever these words are spoken to Briggs or Fitzgerald over the phone, not only do they become unwitting thieves, they find themselves attracted to the other.
The script, which is a zany mix of screwball and silly, feels like other comedies from the 1940's, including Howard Hawks' "His Girl Friday" and the wonderful Spencer Tracy-Katherine Hepburn pairings like "Pat and Mike." Rapid fire delivery, larger-than-life characters, exotic situations, all are part of the rich tapestry of the films of the period.
Hunt is wonderful as Fitzgerald, a strong woman with just a streak of vulnerability. Hunt's best moments come when Fitzgerald finds herself at a crossroad, trying to convince herself that Briggs is not guilty of a crime he's accused of. Her inner conflict is so real we immediately change gears and like her character.
Allen can always be counted on for interesting supporting characters, and "Curse of the Jade Scorpion" is no exception. Theron sizzles as the sex-starved daughter of a socialite who sees Briggs as a challenge. Theron vamps and grinds through every line, creating a woman who just drips sex.
Dan Aykroyd is likeable as the company boss, while Wallace Shawn shines as the co-worker who sets into motion the chain of events. David Ogden Stiers doesn't have much to do as the mysterious Voltan, yet we immediately get a sense of who is and what he stands for. Perky Elizabeth Berkley fleshes out the office staff as the girl Friday who still believes that loyalty is a good thing.
All of this is wrapped up in a handsome production package that perfectly captures the look and feeling of the period. Set in 1940, "Curse of the Jade Scorpion" features beautiful cinematography by Zhao Fei, which bathes every shot in a nostalgic amber. The production design, the costumes and Allen's selection of period music all combine to create a celluloid time machine.
With last year's "Sweet and Lowdown" and now "The Curse of the Jade Scorpion," Allen continues to prove that he still has what it takes, both in front and behind the camera, to deliver the goods. I doubt "Curse of the Jade Scorpion" will find a large audience. It's not raucous, it doesn't star the latest WB flavor of the month, and is concerned more about plot and character than blowing things up.
Even with the occasional clunker, "Curse of the Jade Scorpion" is still smarter than most of what is currently playing in theaters.
COMEDY CURSE
Allen puts us under Jade Scorpion's spell
CURSE OF THE JADE SCORPION
Woody Allen, Helen Hunt, Dan Aykroyd, Charlize Theron, David Ogden Stiers, Wallace Shawn. Directed by Woody Allen. Rated PG-13. 104 Minutes]
LARSEN RATING: $5.00