Crouching Tiger, Hidden Dragon
Possibly one of the most beautiful, poignant and stunning films you will ever see, at least in Mandarin. Directed with amazing strokes of fantasy and myth by Ang Lee, "Crouching Tiger, Hidden Dragon" not only became a huge hit around the world, it totally destroyed box office records in the United States and garnered 10 Academy Award nominations. Much praise for a film that totally deserves it.
Lee and his writers have combined three distinct genres into one, and the final product is a film that soars with majesty and spirit. Look closely at this tale of love and revenge and you'll see glimmers of Sergio Leone's westerns, Akira Kurosawa's Samurai films and traditional Hong Kong Kung Fu films. Chow Yun Fat and Michelle Yeoh are absolutely mesmerizing as two master warriors whose endless love is tested when they are called upon to guard and then retrieve the treasured Green Destiny sword.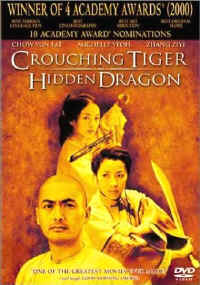 They are assisted by a young bride-to-be, who displays incredible fighting talent. Set against a majestic 19th Century backdrop, the film features dream-like fight scenes that defy convention and gravity. The film's Oscar wins for Best Foreign language Film, Cinematography, Art Direction and Original Score are all testaments to the film's power.
Chow Yun Fat is excellent as Li Mu Bai, a martial arts expert who decides to retire after his master is killed by a female assassin known as the Jade Fox (Cheng Pei Pei). While Li goes to off to his sacred training ground, Wudan Mountain, to pray for his late master, he asks his longtime friend Yu Shu Lien (Michelle Yeoh) to deliver his ancient, 400-year-old sword called Green Destiny to Sir Te (Lung Sihung), a respected leader in Beijing.
When the sword is stolen from Te's residence, all fingers seem to point to the Jade Fox, but Shu Lien has her own suspicions. She suspects Jen (Zhang Ziyi), the soon to be wed daughter of the Governor (Li Fa Zeng). Jen isn't the sweet little things she pretends to be, which quickly becomes apparent when she displays amazing fighting skills.
How those skills come into play are just part of the immense pleasure of "Crouching Tiger, Hidden Dragon." Unlike previous martial arts films, the fight scenes in the film are pure magic, literally. They are held on rooftops, on treetops, on water. They are amazing, a combination of wirework and digital magic that gives us the illusion that what we are watching is real.
It would be pointless to touch down on all the plot points. I will leave that privilege to you. Discover the pure beauty and magic of the film for yourself. It's unlike anything you have ever seen.
The performances are as deep and as spiritual as the screenplay, which explores human emotions on a large palette. Chow Yun Fat and Michelle Yeoh inhabit this world with conviction. You not only believe in their characters but their quest as well. They make the impossible possible. We embrace the characters for their honesty, and have no problem taking flight with them. The romance between Fat and Yeoh doesn't seem manufactured. You feel these two have known each other and have loved each other for a long time.
There's real spirit in Zhang Ziyi's feisty Jen, who wants to honor her father but not his customs. Her spirit is infectious. We want her to pursue her dream, to find her one true love, instead of settle. She deserves better, and Ziyi makes us believe that she can get it. Chang Chen is also excellent as Jen's former lover Lo, whose presence sets into motion one of the film's most amazing pursuits.
It's difficult to pinpoint "Crouching Tiger, Hidden Dragon," and perhaps that is what made it so popular. It's different things to different people. Some people see an epic romance. Others see a martial art film. Whatever, you must see the film before you can make up your own mind. Do so. You won't regret. it.
COMPLETE CHECK-UP
VISION: 20/20

2.35:1 Widescreen

16:9 Enhanced
Perfectly realized digital transfer features beautiful, strong colors and flesh tones so realistic you feel you can reach out and touch them. The colors are bold and vivid, but also subtle when needed. No bleeding or fading. Attention to detail is amazing, you can count every leaf on a tree, while depth of field is endless and filled with sharp detail. Blacks are strong and never waver, while whites are pure thanks to a pristine negative. Shadow detail is sharp. No noticeable artifacts or noise.
HEARING: Excellent

5.1 Dolby Digital Surround in Mandarin

5.1 Dolby Digital Surround English Dubbed

2.0 Dolby Digital Surround in French
Extremely expressive 5.1 Dolby Digital Surround soundtrack in Mandarin (more about the English dubbed later) puts all of your systems speakers into play. The film's many fight scenes fill the room with amazing surround and stereo effects, plus powerful basses that rock the joint. Every sound field gets a workout, including the rear speakers, which are always alive. Ambient noise is realistic, while musical cues are clean and sweeping. Middle and high pour from the speakers with the same authority as the basses. Surround effects are especially effective, while the front-to-rear spatial separation sounds authentic. Front sound field left-to-right stereo split is also true, while the dialogue mix is perfect. Like the film's mystical spirit, the soundtrack will envelop you. Now on to the English dubbed soundtrack. Even though the film became the highest grossing foreign film in the United States, there are still some people who don't like subtitles and haven't seen the film for that reason. The dubbed version, which is a far cry from "Godzilla" films, allows those people the opportunity to see the film without having to read. Even though some may find dubbing a bad thing, adding this track is a major step towards helping audiences discover films they would not normally see. Who knows, once they see it in English, they may be more inclined to watch in it Mandarin.
ORAL: Excellent

Closed Captions in English for the Hard of Hearing

Subtitles in English and French
COORDINATION: Excellent

Feature-length audio commentary with director Ang Lee and screenwriter James Schamus. The long-time collaborators seem to have a good time on the commentary, and even though their comments are scene specific they fail to provide the sort of insight one has come to expect from such affairs. I like the playful way the two engage each other, but their good time becomes our beast of burden. Indeed, there are some interesting bits of information being exchanged here, but there's also bits of information that get skimmed over. The filmmakers obviously went through a lot of effort getting those amazing fight scenes on film, so I just wish these two had addressed the effort more.

Unleashing The Dragon, a 20-minute making-of special from BRAVO that provides a wealth of information, including interviews with all of the principals, plus enough behind-the-scenes footage to fulfill fans of the film. Interviews are interspersed with footage from the film, giving us a clear picture of what the actors and filmmakers are talking about. Interesting insights, including the fact that this is Chow-Yun Fat's first martial arts film, and even though he trained for months, still needed to count off the steps. Watch in awe as you learn the secrets to the film's dazzling flying sequences, which relied more on human endurance than movie magic. There's also a segment on the film's beautiful music, including the music video of Coco Lee's "A Love Before Time." Stay tuned for an extensive interview with composer Tan Dun and musician Yo-Yo Ma, which goes into detail about how difficult it was to find the right sound for the film.

A conversation with Michelle Yeoh that was obviously shot during the film's promotion tour, where she basically rehashes the sentiments and observations she made in the featurette.

Entertaining photo montage with music that does all of the work for you.

International and United States Theatrical Trailers.

Brief filmographies with photo images.

Animated main menu with video, traditional scene access menus.
PROGNOSIS: Excellent

The Best Foreign Language Film of 2000 is also one of the best films ever made. Buy the DVD. No library should be without a copy.
VITALS:

$26.98/Rated PG-13/120 Minutes/Color/28 Chapter Stops/Keepcase
ATTENDING RESIDENT: John Larsen
PATIENT: CROUCHING TIGER, HIDDEN DRAGON
BIRTH DATE: 2000
HMO: Columbia-TriStar Home Entertainment