Confessions of a Dangerous Mind
Most people only know Chuck Barris as the host of the game show freak parade "The Gong Show," even though his career includes being a producer (The Newlywed Game, The Dating Game) and song writer (Palisades Park). Oh yeah, and hit man for the CIA.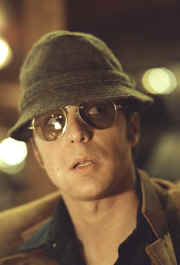 Sly and wry, "Confessions of a Dangerous Mind," based on Barris's infamous autobiography in which he details his exploits as producer by day and hired hit man at night, is both hilarious and poignant. Featuring a standout performance by Sam Rockwell as the beleaguered Barris, "Confessions" marks the directing debut of actor George Clooney, and what a wild ride it is.
As someone who raced home from elementary school to watch "The Dating Game" and high school to watch "The Gong Show," I was familiar with Barris's work as a producer and host, but had very little insight into the man and his madness. Constantly hovering near the brink of paranoia, Barris was a driving force in the game show industry who almost drove himself over the edge.
Mixing fact and fantasy with wild abandon, Barris turned his un-sellable autobiography into an absurdist comedy about spies, lies and videotape. The screenplay by Charlie Kaufman, whose offbeat prose turned both "Being John Malkovich" and "Adaptation" into inspired mind trips, is the perfect choice to bring Barris's life to the screen. Kaufman and Barris seem cut from the same cloth.
It's hard to imagine "Confessions" playing across the boards, even though it features a stellar cast that includes George Clooney as the CIA agent who recruits Barris, Drew Barrymore as his long- suffering girlfriend, and Julia Roberts as one of the prettiest femme fatales in recent memories. Even the films exquisite retro-look, captured with perfection by director of photography Newton Thomas Sigel and production designer James D. Bissel, might rub some audiences the wrong way.
I was pleasantly surprised by Clooney's ability not only to get dynamic performances from everyone in the cast, but to create an equally dynamic film that successfully drags us into Barris's state of mind.
When we first meet Barris, he's standing naked inside a hotel room, completely lost in his thoughts as a maid vacuums around him. It's an preposterous moment that is a precursor of things to come. Flashback to the early sixties, where in quick succession, Barris goes from being an ABC tour guide to a high profile television producer. Kaufman and Clooney are aware that the heart of the story is in Barris's revelation that he killed over thirty people while employed as an assassin.
It's difficult to take most this as fact, but the filmmakers and actors play it with the utmost conviction. Did Barris really parlay his role as "Dating Game" chaperone into opportunities to visit exotic locations and kill people? Was CIA agent Jim Byrd (Clooney) a figment of Barris's imagination, an alter-ego to help him escape his paranoia, or the real thing? You could never tell by watching "Confessions," which is such brilliant escapist fare that we really don't care, at least while engaged in the process of watching the film.
Rockwell captures Barris's mannerisms without resorting to impersonation. Instead, Rockwell makes his Barris an original, a character that we can get behind despite his insecurities, indifference, and infidelities. We honestly believe novice spy Barris when apologizes for chipping a victim's tooth with his gun before blowing his head off.
Drew Barrymore sparkles as Penny, the constantly morphing girlfriend who eventually tires of being at his beck and call. Julia Roberts, in what amounts to a glorified cameo, is sensational as the female spy who looks and dresses like she just stepped out of a Dean Martin-Matt Helm film. She's both lovely and deadly, and Roberts seems to have a lot of fun with her.
I've read that everyone associated with "Confessions" had fun making the film, and it shows in the characters and their interaction. A lot of the credit goes to Clooney, who is equally strong both in front and behind the camera. As Byrd, the shadowy figure Barris first mistakes as a gay predator, Clooney is solemn and to the point. It's easy to picture him as a man of mystery, always popping up when you least expect him.
Clooney, who befriended Barris before production began, never treats his leading man as a whack job. Instead, Clooney celebrates Barris's eccentricities as battle scars, reminders of a man who survived being eaten alive by a monster called television. The end result is a film that always takes itself seriously, but never at the expense of entertaining the audience.
DANGEROUS LIAISONS
"Confessions" is good for the soul
CONFESSIONS OF A DANGEROUS MIND
Sam Rockwell, Drew Barrymore, George Clooney, Julia Roberts, Rutger Hauer. Directed by George Clooney. Rated R. 115 Minutes.
LARSEN RATING: $8.00