City of God
One year after being submitted (and snubbed) as Brazil's Best Foreign Language Film entry in last year's Academy Award race, "City of God" finds itself in a unique position. Academy rules allow non-nominated foreign film entries to compete in all other categories the following year. "City of God" has since garnered four Academy Award nominations, including Best Director, Adapted Screenplay, Cinematography and Editing.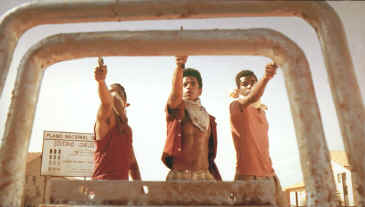 One look at "City of God" and you'll immediately agree that the film earned each and every nomination. "City of God" is so potent and vivid that it stays with you. Which explains why this little movie has accomplished so much. It's another testament to bold, experimental south of the border film-making, exposing audiences not only to new talent, but new talent with a clear vision.
The images in "City of God" are shocking and unflinching, captured with dizzying intensity by cinematographer Cesar Charlone. The subject matter, Rio's vicious, cold-hearted and unsympathetic street gangsters, isn't easy to take. Director Fernando Meirelles (assisted by Katia Lund) deals frankly with these killers who inhabit and eventually take over the slums of Rio de Janeiro, turning their poverty-stricken neighborhood dirt roads into battlefields.
What makes this gangster film so startling is that those toting the guns are kids, who grow up to recruit other kids to maintain their grip of fear. "City of God" covers a lot of territory, telling numerous stories and introducing dozens of characters. In less capable hands, "City of God" would fall like a house of cards. Meirelles and writer Braulio Mantovani skillfully navigate the maze of complex storylines, using two childhood acquaintances as narrators.
"City of God" features breakout performances by Alexandre Rodrigues as Rocket and Leandro Firmino da Hora as Lil' Ze, who grow up in the same slum but take different paths. Rocket likes to take pictures and dreams of being a photographer. Lil' Ze takes everything else, using his gang to sell drugs and eliminate those who get into his business. Rocket is one of a handful of sympathetic characters in "City of God," people who dare to dream while living a nightmare.
"City of God" is filled with nightmarish images, kids killing kids, rape, excessive drug use, but they are the truth of the story. "City of God" isn't supposed to be entertainment but an indictment of the byproduct of poverty. Under those terms, it's impossible not to be moved by the film's searing honesty.
Godless Monsters Poverty turns "City" kids into pistol packing punks
CITY OF GOD
Alexandre Rodrigues, Leandro Firmino da Hora, Douglas Silva, Matheus Nachtergaele. Directed by Fernando Meirelles and Katia Lund. Not Rated. 130 Minutes.
LARSEN RATING: $8.00