Chinese Box
Director Wayne Wang's "Chinese Box" is about beginnings and endings. Set in Hong Kong during the last six months of Colonial rule, "Chinese Box" is just as intriguing and captivating as the object of its title. Wang, whose growth as a director blossomed with "The Joy Luck Club," shows great maturity with this absorbing tale of three people whose lives undergo dramatic change over a short period of time.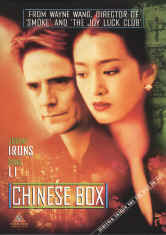 Jeremy Irons is excellent as John, a British journalist stationed in Hong Kong who uses a camcorder to capture the tumultuous times the city is going through. John, like many of his compatriots, wonders out loud about Hong Kong's fate once it's taken over by the Chinese. Chaos abounds, but no more so than in John's personal life. Estranged from wife and children, John harbors a deep love for bartender Vivian (the outstanding Gong Li).
John keeps his distance out of respect for his friend Chang (Michael Hui), a respected businessman who lives with Vivian. Vivian hopes Chang will marry her, but realizes that her questionable past keeps him from doing the honorable thing. When John's not hanging out with his photographer friend (Ruben Blades, delightful as always), he's scouring the streets for subjects to film. John is intrigued by a woman on the street who keeps her lower face hidden with a shawl.
John is so intrigued by the mystery woman that he follows her around town, capturing her on video. When he finally catches up with her, John immediately learns why she masks her face. Her name is Jean (Maggie Cheung), and her face is scarred because she tried to commit suicide over a failed relationship. Now Jean hustles "foreign devils" while waiting for her long-gone boyfriend to return. All of this is told with a sense of urgency as John learns early on that he has a rare form of Leukemia and very little time left. Like John, the film savors life.
It's filled with human emotion and a sense of reality that is rare in films. Wang captures the contrasts of the Eastern and Western influences in Hong Kong, and then takes us to the melting pot in the middle, which is far more interesting. Vilko Filac's handsome cinematography shows us poor street shanties with shimmering skyscrapers as backdrops. As a romantic drama, "Chinese Box" sizzles. When John and Vivian finally get together, their anticipation heats up the screen. Irons is truly amazing as a man totally aware of his destiny.
He balances melancholy and hunger with just the right amount of anger. You sense his character is truly interested in his subjects. Gong Li is marvelous as a woman who lets honor and tradition stand in the way of her happiness. There's a longing in her eyes, and a playfulness when she pretends to be a hostess in order to arouse John. Maggie Cheung shines as a woman who has more scars inside than on her face. Wang paints on a large canvas here, but never loses focus of his characters.
The screenplay by Jean-Claude Carriere and Larry Gross gives the characters intelligent things to say. Somber at times, "Chinese Box" is actually a celebration of life.
COMPLETE CHECK-UP
VISION: [ x ] EXCELLENT [ ] GOOD [ ] RESUSCITATE [ ] D.O.A.
Superior transfer in the film's original 1.85:1 aspect ratio. I was especially impressed with the striking flesh tones. Even the grainy video images of John's camera hold up to the digital transfer. Strong, impenetrable blacks and vivid, honest colors combine for a gorgeous picture.
HEARING: [ x ] EXCELLENT [ ] GOOD [ ] RESUSCITATE [ ] D.O.A.
Director Wayne Wang uses the Dolby Digital Surround Sound to good advantage. At times you think the rear channels aren't working. Then you realize that the sound mix is so perfect you become totally immersed in it. The dialogue is strong and clear, while the new age Chinese music by composer Graeme Revell caresses you from every direction. The highs and lows are well represented in the sound mix providing for a complete aural experience.
ORAL: [ x ] EXCELLENT [ ] GOOD [ ] RESUSCITATE [ ] D.O.A.
Closed captioned for the hard of hearing in English, with subtitles in French and Spanish.
COORDINATION: [ ] EXCELLENT [ x ] GOOD [ ] RESUSCITATE [ ] D.O.A.
The customary interactive menus, generous scene access for a 99 minute movie, the original theatrical trailer, and cast and crew bios.
PROGNOSIS: [ ] EXCELLENT [ x ] GOOD [ ] RESUSCITATE [ ] D.O.A.
The Colonial spirit may have died with the takeover of Hong Kong, but Wayne Wang's "Chinese Box" is alive and well, and showing great strength on DVD.
VITALS: $29.99/Rated R/99 Min./Color/24 Chapter Stops/Keepcase/#VM6859
ATTENDING RESIDENT: John Larsen: John Larsen
PATIENT: CHINESE BOX
BIRTH DATE: 1997
HMO: Trimark Home Video