The Cat And The Canary
At first thought, director Radley Metzger is a curious choice to direct mainstream ensemble thriller. Once one of Europe's most noted soft-core directors ("Therese & Isabelle," "Camille 2000"), spent the majority of the 1970s directing ground-breaking porno movies under the name of Henry Paris.
Just as his soft-core efforts had set new standards for erotica, so did his more adult oriented work like "The Private Afternoons of Pamela Mann." They all featured better than average performances and outstanding camera work.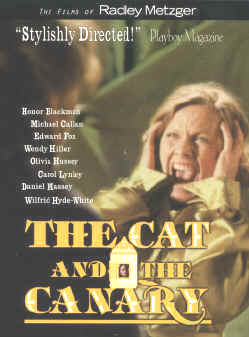 So it's odd that Metzger would turn his attention to something as mainstream as his remake of "The Cat & The Canary." While his fascination in lesbian characters hasn't dwindled (the film has three ambiguous female characters), Metzger manages to stay comfortably within the confines of a PG rating. Based on the stage play by John Willard, Metzger's screenplay isn't as tight as it could be, but it is serviceable.
It allows the cast of recognizable faces to go through the motions in the thriller which resembles Agatha Christie's "Ten Little Indians." A group of people are invited to a reclusive estate for a will reading, only to find themselves trapped by a nasty storm. It doesn't help matters that an escaped mental patient who fancies himself as a cat and shreds his victims to death is on the prowl. Like all good chamber pieces, most of the action takes place in the dining room, where the guests have been gathered to watch a filmed reading of the will.
Even though the cast isn't as dynamic as those found in the Agatha Christie mysteries of the same era, they are engaging. Included in the mix are Honor Blackman (the former Pussy Galore), Edward Fox, the always delightful Wendy Hiller, Olivia Hussey, Carol Lynley, Daniel Massey and Wilford-Hyde White. They approach the material with just enough conviction (and a little melodrama) to make the whole proceeding enjoyable. The story is familiar, but the fun comes in watching the characters try to understand their predicament. Not only is a maniac on the loose, but according to the filmed will, one of the heirs might also be a little crazy as well.
That means you don't know who to trust. Metzger does a splendid job of making all of this matter, if only on a superficial level. We don't really care who lives and dies, we just want to make sure we have a good time before they all expire. Metzger provides that good time with a cinematic style that breathes new life into pedestrian situations. For instance, instead of playing out a fight with predictable camera angles, Metzger brings the camera down to floor level and places it under a table. The angle allows us to see the action with the obvious trappings. Metzger also uses his spatial palace to good advantage, creating a modicum of suspense through lighting and angles. The film isn't a thriller, but a mystery. There are not a lot of suspenseful moments, but you will be swept up into the mystery. Not a great film by any means, but an interesting curio.
COMPLETE CHECK-UP
VISION: [ ] 20/20 [ ] Good [ X ] Cataracts [ ] Blind
"The Cat & The Canary" has been transferred in it's original widescreen ratio, and even though the box says 1.85:1, it looks more like 1.66:1. Regardless, the transfer is decent. The problem lies with the original negative. Color saturation is hot and cold, and sometimes too hot for its own good. The negative also runs hot and cold. Sometimes the images are sharp and vivid, other times the image is so bad you can hardly stand it. The main problem lies around reel changes, where scratches and reel change marks spring up like weeds in Spring. Every few minutes before each reel change the scratches are so bad they look like someone dragged them behind a car over sharp rocks. When the image is clean, the color is okay, but the flesh tones are all washed out. Depth of field is okay, but attention to detail is minimal. Blacks are decent but not industrial strength.
HEARING: [ X ] Excellent [ ] Minor Hearing Loss [ ] Needs Hearing Aid [ ] Deaf
Functional Dolby Digital Mono soundtrack.
ORAL: [ ] Excellent [ ] Good [ X ] Poor
No closed captions or subtitles.
COORDINATION: [ ] Excellent [ ] Good [ ] Clumsy [ X ] Weak
Main and scene access menus.
PROGNOSIS: [ ] Excellent [ ] Fit [ X ] Will Live [ ] Resuscitate [ ] Terminal
If this is as good as it gets, then possibly worth a rental for those who like such fare.
VITALS: $19.99/Rated PG/98 Minutes/Color/12 Chapter Stops/Snapcase/#ID5537FFDVD
ATTENDING RESIDENT: John Larsen
PATIENT: THE CAT AND THE CANARY
BIRTH DATE: 1978
HMO: Image Entertainment