Bull Durham
"Bull Durham" is a romantic comedy about America's other favorite pastime. The first is baseball, but there's plenty to root for on and off the field in writer-director Ron Shelton's extremely enjoyable debut. Before stepping behind the camera as a director, Shelton had written numerous films and served as a second unit director.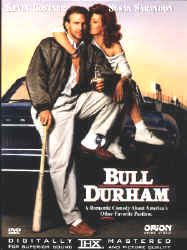 When Shelton decided that he was ready to helm his first film, he penned this engaging tale of a minor league baseball team and the women in their lives. As Shelton relates in the DVD's running audio commentary, movies with a sports theme were considered poison at the box office. The film was turned down twice by every major studio, and when Orion finally decided to make the film, they only gave him $5 million. Well, it's amazing what a little ingenuity and a lot of passion can do with $5 million. "Bull Durham" may take place in the minor leagues, but the film is Major League all the way. It features winning performances, one of the brightest, snappiest romantic comedy scripts ever, and assured direction. It all comes together in a fun-filled, deeply romantic good time that even makes foul balls something to cheer about. Kevin Costner is sensational as Crash Davis, a seasoned player now making his home with the Durham Bulls.
Davis, who once spent 21 days in the "Show," knows he's just biding his time when he arrives at the Bull's clubhouse. He's there to make hot shot pitcher "Nuke" LaLoosh (Tim Robbins) look good, which proves to be more of a headache than a task. Davis has his eye on team handler Annie Savoy (Susan Sarandon, who just oozes sex in this film), who in turn has her eye on Nuke. Annie's knowledge of the game and her penchant for taking hot prospects under her wing and into her bed make her a major asset to the team. "There's never been a ballplayer who slept with me who didn't have the best year of his career." Thanks to Annie and Crash, Nuke matures in a major league threat, and finally gets a shot at the "Show."
That leaves Annie and Crash with some time to explore their feelings for each other, which leads to one of the most romantic interludes on film. The leads are exceptional, who get great assist from a well-balanced supporting cast, including the wonderful Trey Wilson as the manager of the team, and Robert Wuhl as the Bull's coach. There are so many memorable moments in "Bull Durham." Add them up and what you get is a great film that proves that movies with a sports theme can succeed at the box office. Of course it helps to have stars like Costner, Sarandon and Robbins, who just ooze charm in every scene.
COMPLETE CHECK-UP
VISION: EXCELLENT
Welcome to the wonderful world of THX mastering. "Bull Durham" looks sensational. Except for one minor low-lit scene that actually looks like a film stock and not a compression problem, the digital transfer is superb. Beautiful, vibrant colors abound, from the brightly lit day games to the perfectly lit interiors that look absolutely amazing. The flesh tones are of the highest quality, images so real they spring to life on your television. The blacks are the best I have ever seen, never budging, even under the closest scrutiny. Delivered in the film's original 1.85:1 widescreen ratio, enhanced at 16:9 for widescreen televisions, "Bull Durham" has never looked better. Radiant reds, boss blues, gorgeous greens, excellent earth tones, the color saturation is perfect.
HEARING: EXCELLENT
The "Bull Durham" Dolby Digital 2.0 Surround track circles the room like a stadium full of fans doing the wave. The extremely expressive surround track puts you right the middle of the action, while the dialogue mix is pitch perfect and as strong as they come. The boisterous song track makes good use of the booming basses and strong high ends, while the stereo split delivers ambient noise that is real and lifelike. The stereo definition is strong and accurate, and thanks to the THX mastering, no hiss or distortion. The soundtrack is just as lively and vivid as the digital images.
ORAL: GOOD
Closed captions in English for the hard of hearing.
COORDINATION: EXCELLENT
Who better to watch "Bull Durham" with than the film's writer and director, Ron Shelton. Thanks to a lively running audio commentary track, you can invite Shelton into your screening room to discuss the various aspects of making "Bull Durham" and his philosophy on film in general. Shelton's love for the game comes through loud and clear, and the logistics of bringing his passion to the screen is a fascinating and fun journey. Shelton relates that movies with a sports theme were considered poison at the box office, and that every studio in Hollywood turned down "Bull Durham" not once, but twice. Could you imagine a world without "Bull Durham"? Once Shelton got the green light from Orion, he was given a $5 million budget that had to include a forty-day shooting schedule, stars Kevin Costner and Susan Sarandon, plus all of the amenities of a major film shoot. Costumes? Shelton only had $24,000 in his budget, do most of the costumes and uniforms were purchased from the Goodwill. The bomber jacket that Costner wears throughout the film? It came straight off the back of Shelton. Shelton also discusses the romance that blossomed between stars Sarandon and relative newcomer Tim Robbins, and his relationship with comedian Robert Wuhl, who would appear in most of Shelton's films. The most interesting aspect of Shelton's commentary is his discussion on how he would change certain elements of the film. Shelton feels that time and money constraints, plus "Bull Durham" being his first film as a director, led to more compromises than he was happy with. Well, Shelton would be extremely happy with the treatment "Bull Durham" gets on DVD. The interactive menus are alive with moving images and colorful displays, and come complete with star and director filmographies. The scene access menus feature moving clips from each scene. The only thing missing was the original theatrical trailer.
PROGNOSIS: EXCELLENT
Image Entertainment hits one out of the ballpark with "Bull Durham." A Home Run for their 200th at bat.
ATTENDING RESIDENT: John Larsen
PATIENT: BULL DURHAM
BIRTH DATE: 1988
HMO: Image Entertainment