The Bride of Frankenstein
How do you top a classic like "Frankenstein"? That was the problem plaguing director James Whale, whose classic set new standards for horror films. Even though Universal Pictures issued a call for a sequel immediately after "Frankenstein" opened, it took Whale several years to commit. You can't blame him. Expectations were so high that unless he hit upon the right formula, it might have ended his career.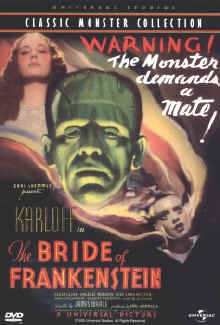 The wait was worth it, as "The Bride of Frankenstein" not only broke box-office records, it is widely regarded as one of the few film sequels that is better than the original. Working with more money and clout, Whale created a dizzying display of horror and comedy that still remains effective to this day. Whale was able to recruit Boris Karloff and Colin Clive to recreate their star-making performances in the original film, and working from a bright, moody script by William Hurlbut, made "The Bride of Frankenstein" a reason to rejoice.
The film is filled with many memorable moments and images, the most recognizable being Elsa Lanchester's bride, decked out in white bandages and a white-streaked black beehive hairdo. I remember the first time I saw "The Bride of Frankenstein." It was years ago on a late night horror show called "Chiller." I remember that my parents went to bed, and I stayed up, camped out in the livingroom, waiting to be scared. I was.
While I was too young to appreciate the comedy and brilliant dialogue, I was enthralled with the horror aspects of the film and the graven images of the monster. Karloff is absolutely stunning as the monster in this film, allowed for the first time to speak. Karloff was hesitant to take the role in "Frankenstein" because he had no dialogue. Ironically, it was Karloff who was adamant that the monster don't speak in "The Bride of Frankenstein." Fortunately he lost, and his dialogue is some of the most affecting in film history.
Then again, there isn't a bad performance in the film. Whale was a master of evoking believable performances from his cast, and "The Bride of Frankenstein" features some of his best work. Colin Clive, who was close to immortality himself, delivers a powerful performance as obsessed doctor Henry Frankenstein, who is still playing God. He's joined by Valeria Hobson (a mere 17 when she started filming) as Elizabeth, his beautiful bride, and Ernest Thesiger as the mysterious Dr. Pretorius.
Lanchester does double-duty as the bride and the film's narrator (and book's author) Mary Wollstonecraft Shelley. It is Mary who opens the film, using a dark, stormy evening to play parlor games with her husband Percy (Douglas Walton) and friends Lord Byron (Gavin Gordon) and Minnie (Una O'Connor). Mary spins a tale of life after death, of love lost and found and then lost again. It's a brilliant device to segue way into the final moments of the first film. The mad mob, believing that the monster has died in the windmill fire, leave.
What they don't know is that Frankenstein's monster is still alive, saved by falling through the burning embers into an underground cavern. Freed from his fiery prison, the monster begins a journey of self-awareness that will lead him to a blind hermit (The wonderful O.P. Heggie), an encounter with Dr. Pretorius (one of the film's most endearing moments), and finally back to the Frankenstein castle where he meets his new mate. Whale is so brilliant with his visuals that every frame in the film is a keeper. You're constantly amazed at how grandiose the film is.
Universal opened up the purse strings for the sequel, and Whale spent wisely. Interiors are more open and cavernous, while set detail is exceptional. What was once suggested in the first film is realized in the sequel. Some films you just watch. "The Bride of Frankenstein" you experience.
COMPLETE CHECK-UP
VISION: [ ] 20/20 [ X ] Good [ ] Cataracts [ ] Blind
Full-frame (1.33:1) presentation that maintains the film's original theatrical aspect ratio. Even though some obvious wear and tear is evident (the original negative has lines running through it), Universal has done a decent job of maintaining the quality of the original negative. Depth of field is okay, while attention to detail is fair. Some flecking, but no real compression artifact issues. The blacks aren't industrial strength, but they hold up. Whites and grays look a little grainy.
HEARING: [ X ] Excellent [ ] Minor Hearing Loss [ ] Needs Hearing Aid [ ] Deaf
Strong 2.0 Dolby Digital mono soundtrack duplicates the film's original theatrical presentation. The soundtrack is amazingly clean, with hardly any sound issues to speak of. Strong dialogue mix keeps the fascinating dialogue front and center, while the musical cues and ambient noise sound natural considering how old they are.
ORAL: [ ] Excellent [ X ] Good [ ] Poor
Closed captions in English for the hard of hearing, subtitles in French.
COORDINATION: [ X ] Excellent [ ] Good [ ] Clumsy [ ] Weak
Everything you've ever wanted to know about "The Bride of Frankenstein" plus more. Universal Studios Home Video has put together an excellent collection of extras for this latest entry into their "Classic Monster Collection." Here's the line-up:

The outstanding original documentary "She's Alive! Creating The Bride of Frankenstein." Join host Joe Dante as he takes you through the history of the film, aided by historians and fans of the film. Clive Barker chimes in with his thoughts, while survivors of cast members fondly recall their parents involvement in the film. An excellent behind-the-scenes look at one of Universal's most enduring classics.

Film historian Scott MacQueen provides an insightful and informative running audio commentary that clearly spells out the filmmaking process used to create and execute the film.

"The Bride of Frankenstein" archive which is a treasure chest filled with stills, posters and promotional materials.

The film's original theatrical trailer, plus production notes and cast & crew filmographies.

Excellent main and scene access menus.

Links to Universal's web site.
PROGNOSIS: [ X ] Excellent [ ] Fit [ ] Will Live [ ] Resuscitate [ ] Terminal
It's alive! It's alive!
VITALS: $24.98/Not Rated/75 Minutes/B&W/18 Chapter Stops/Keepcase/#20632
ATTENDING RESIDENT: John Larsen
PATIENT: THE BRIDE OF FRANKENSTEIN
BIRTH DATE: 1935
HMO: Universal Studios Home Video