Blow Out
While taping ambient sound for a horror film, sound technician Jack Terri (John Travolta) captures the sound of an automobile tire blow out. He looks up just in time to see the automobile careen off the road and crash into a pond. Without thinking, Jack jumps into the pond to save the occupants. he should have taken the first bus out of town instead.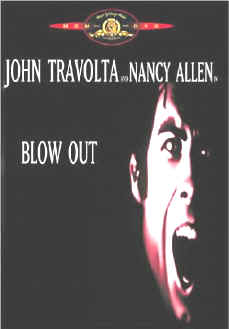 Welcome to director-writer Brian De Palma's "Blow Out," a satisfying political thriller that takes its cue from that nasty Ted Kennedy bridge incident. De Palma's film asks what would have happened had the girl lived and the senator died. The answer is a suspenseful journey into dark, dangerous waters that seem to engulf anyone who enters.
De Palma reunites John Travolta and Nancy Allen from "Carrie," and the union is more than welcome. Travolta is tremendous as Jack, a man with some morals who works in an immoral business. Everyone Jack meets has an ulterior motive, willing to sell themselves and anyone who gets in their way to achieve their goals.
Filled with patriotic images, "Blow Out" is De Palma's homage to Antonio's "Blow-Up," but with sound instead of pictures. Sound plays an important role in the film, and De Palma uses it to trick and confuse us. We're never sure what's real or what's manufactured. Just when it becomes clear, it's too late. Like the characters, we're entwined in the events surrounding them.
The film opens with what looks like a low-budget horror film about a killer stalking a sorority house. In true De Palma fashion, we follow the killer, whom we never see, through an extended shot of him surveying the occupants before moving in for the kill. The scene is so low-budget and campy that it's impossible to believe that it's part of the story.
Actually, it's a clip from a horror film, one that Jack has been hired to sweeten with his usual bag of sound tracks. When Jack is pressed for new and better sound effects, he grabs his equipment and heads for the great outdoors.
It's there that Jack records the accident. After saving call girl Sally (Nancy Allen) from a watery grave, Jack learns that the other occupant was a noted senator who was on the fast track to become President. Now it seems everyone connected with the accident want Jack and the girl to disappear, literally.
When Jack discovers what he recorded wasn't an accident but an assassination, he hooks up with Sally to learn the truth. What they stumble across is a conspiracy that threatens both of their lives.
De Palma lines almost every scene with some sort of patriotic image, from flags to posters and wallpaper that looks like a flag on acid. He's not making a political statement, he's using these images as misdirection. He doesn't want to let on that the film has much more on its mind than being a simple political thriller. It's much more dangerous, and the final frames are a testament to that.
Travolta, still shaking his "Grease" image, is excellent as a man whose life takes a 180 degree spin. A simple night of recording and doing the right thing propels him into a world where nothing is what it seems and where no one is trustworthy.
Allen once again displays perfect pitch as a woman who sells her body but has much more going on upstairs than anyone gives her credit for. Her cries of desperation towards the end of the film are really haunting.
John Lithgow and Dennis Franz pop up as two of the most seediest characters in a De Palma film. Lithgow plays a hired killer who really enjoys his work, almost to the point of orgasm, while Franz is really upsetting as a con man taking Jack and Sally for a wild ride.
Peppered with an interesting Pino Donaggio score and breathtaking photography by the brilliant Vilmos Zsigmond, "Blow Out" remains on of De Palma's most assured and irresistible films. I bet every time Ted Kennedy gets behind the wheel of a car this film plays in his head.
COMPLETE CHECK-UP
VISION: Good

2.35:1 Widescreen

Full Frame

16:9 Enhanced
MGM Home Entertainment gives you the option of watching the film in its original widescreen theatrical presentation or in full-frame. Okay, let's see a show of hands. Who in their right mind would watch this 2.35:1 ratio masterpiece in full frame? Especially knowing De Palma's penchant for split screen effects? Okay, that settled, the widescreen transfer looks pretty decent. Shot in soft focus, the images lack the sharp detail of other films of the period, but what emerges is a dreamy effect that draws the audience into the make-believe world of the characters. Colors are nice, with warm earth tones, and flattering flesh tones. Blacks are strong but not definitive, and there is a small amount of grain in the darker scenes. This isn't really a transfer problem, just the nature of the original negative, which looks to be in great shape. Whites are pure, and there is good detail in the shadows. Depth of field is good, while attention to detail really impresses, especially in the film's street scenes. The colors never bleed or fade, but there is a little edge enhancement in some scenes.
HEARING: Good

2.0 Dolby Digital Stereo in English & Spanish
Okay stereo soundtrack gets the job done with very little interference. Represented sound fields are strong, including noticeable rear speaker action that provides a decent venue for Pino Donaggio's musical score. Dialogue mix is strong (what would you expect from a film about sound mixers?), and front sound field displays an impressive stereo mix. Don't expect a lot and you will be pleasantly surprised.
ORAL: Excellent

Closed Caption in English for the Hard of Hearing

Subtitles in Spanish and French
COORDINATION: Clumsy

Original Theatrical Trailer

Nicely rendered main menu and standard-issue scene access menu.
PROGNOSIS: Good

I wish MGM Home Entertainment had given "Blow Out" the same special edition treatment as "Carrie and "Dressed to Kill," but as a stand-alone product, the film still holds up.
VITALS:

$19.98/Rated R/108 Minutes/Color/16 Chapter Stops/Keepcase
ATTENDING RESIDENT: John Larsen
PATIENT: BLOW OUT
BIRTH DATE: 1981
HMO: MGM Home Entertainment