Blood Work DVD
If ever a movie was in need of a transfusion, it's the new Clint Eastwood thriller "Blood Work." Based on the best-selling novel by Michael Connelly, "Blood Work" suffers from an iron poor screenplay and anemic direction. The movie feels as bored and tired as Eastwood looks.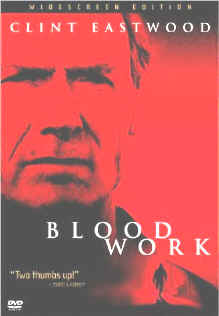 I have no problem with Eastwood's age. Every line, every wrinkle on his face is a road map of a man who has experienced life. Eastwood doesn't mind playing his age, and films like "The Bridges of Madison County," "In The Line of Fire" and "Space Cowboys," prove he is as watch able as ever.
Eastwood's age works to his advantage in "Blood Work," playing an FBI profiler forced into retirement after a near-fatal heart attack. Two years later and four months after receiving a heart transplant, Terry McCaleb (Eastwood) reluctantly finds himself back in the game. An old nemesis, the serial killer McCaleb was chasing down when his heart gave out, has returned, and wants McCaleb to come out and play.
In Connelly's novel, McCaleb was in his forties, but the character was aged to accommodate Eastwood. The switch serves the film and plot well, and Eastwood is quite good as a man having difficulty reconciling the fact that his brain is stronger than his heart. Though he's been benched by his doctor (Anjelica Huston, extremely wooden), McCaleb refuses to remain on the sidelines.
When Graciella Rivers (Wanda De Jesus) begs McCaleb to investigate the murder of her sister (and brings to light an important connection the two share), he has no choice but to ignore his doctor's orders. It doesn't take long before McCaleb starts getting into everyone's face.
Local detectives Ronaldo Arrango (Paul Rodriguez, very funny) and John Waller (Dylan Walsh) don't want McCaleb in their precinct, while Sheriff's Investigator Jaye Winston (Tina Lifford) tries to help without getting fired.
Changing McCaleb's age is one thing, but writer Brian Helgeland, who wrote the crafty screenplay for "L.A. Confidential," tinkers with the structure of Connelly's novel until it becomes impossible to recognize all but the superficial plot points. Often screenwriters feel the need to change the plot of a book so that readers will still be caught off guard when they see the film.
Helgeland's attempt to draw suspicion away from the real villain actually exposes him quite early in the proceedings. I don't know how many people in the audience were astounded when the mystery was revealed, but by that point I was bored and wanted to go home. Even worse, the writer feels the need to cheat logic in order to throw us off the killers track. It's like that great speech Truman Capote gives at the end of "Murder by Death," admonishing all of the great mystery writers for hoodwinking their audiences by tossing red herrings and suspects in the last chapter.
The pace of "Blood Work" could use a blood thinner. As director, Eastwood is his own worst enemy. He's obviously paying homage to the great thrillers of the 1970s like "Klute" and "Chinatown," but his molasses pace and languid direction work against him. Every time you think the plot is going to shift into overdrive, it idles until the exhaust becomes so thick it obscures the best moments.
McCaleb and Eastwood have a lot in common, and the symbiosis is not lost on Eastwood. Even though McCaleb may be physically weak, he has no problem dispensing his own brand of justice. Eastwood makes it easy for us to believe in McCaleb, who not only struggles for a each and every breath, but to prove he isn't a dinosaur.
As McCaleb's boat bum neighbor Buddy Noone, Jeff Daniels is supposed to supply the film with much needed comic relief, but the character is so transparent that not even a talented actor like Daniels can make him opaque. It doesn't take a genius to figure out that even though Buddy jumps at the opportunity to help McCaleb track down the killer, there's just something not right about him.
Wanda De Jesus is flat as Graciella, the desperate woman who eventually becomes McCaleb's love interest, while Anjelica Huston embarrasses herself as his no-nonsense doctor. The strongest performance in "Blood Work" belongs to Tina Lifford, an extraordinary actress who takes an unimaginative role and makes it sparkle.
I doubt that younger audiences will even consider "Blood Work," while older audiences will feel as if they have seen it all before. They have.
DESSERT
Nicely rendered 2.35:1 widescreen transfer captures the film's gritty look with accuracy. Flesh tones are very pleasing, and the colors hold up well with absolutely no saturation. Artifacts are absent, and attention to detail is better in the day time shots than the dark night shots. Depth of field is quite good. Expressive Dolby Digital 5.1 surround soundtrack does an impressive job of putting you in the middle of the action. Small details come alive in the mix, while dialogue and music mixes are strong and to the point. Surround effects capture the chaos in McCaleb's life, and for our French fans, there is a dubbed 5.1 Dolby Digital soundtrack. Extras include two featurettes, one a behind-the-scenes pat on the back for filmmaker Eastwood, including the usual suspects, the other a fourteen minute Spanish language series of interviews with Eastwood, De Jesus and Rodriguez, mostly dominated by the last two and presented with English subtitles.
BLOOD WORK
2002
WARNER HOME VIDEO
RATED R
Clint Eastwood, Jeff Daniels, Wanda De Jesus, Tina Lifford, Anjelica Huston, Paul Rodriguez, Dylan Walsh. Directed by Eastwood. Rated R. 110 Minutes.
MAIN COURSE