Beyond the sea
Passion often leads to risk, and for Hollywood, nothing is as risky as a big screen biography. Which hasn't swayed or even stopped investors from fueling such recent passion plays as Oliver Stone's Alexander and Martin Scorsese's The Aviator, both larger-than-life portraits of pioneering pundits.
Then there's Beyond The Sea, actor-director Kevin Spacey's belated Valentine to crooner Bobby Darin, a small film featuring a passionate, larger-than-life performance by Spacey which transcends the customary Lifetime three-hanky flashback.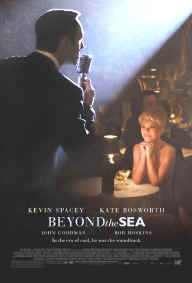 Talk about taking risks, pitching a film about a modestly successful singer-actor more remembered for marrying perpetual teen sweetheart Sandra Dee than for his catalog of songs or best supporting actor Oscar nomination. Anyone under 30 is probably more familiar with Steve Martin's spoof of Mack the Knife than Darin's chart topper.
And quite frankly, isn't Spacey, making his debut behind the camera, a tad too old to be playing a young Bobby Darin? Isn't that like asking audiences to not only suspend disbelief, but don rose colored glasses? How much petroleum jelly can they smear on a camera lens before you start losing all resemblance of shape?
Then Spacey does something brilliant. He knows he's too old to be playing a twenty-something playboy. So instead of bathing us in a cinematic fountain of youth, Spacey comes right out and admits that he's too old to be playing a young Bobby Darin. It's like acknowledging that hideous wart on the lunch lady's face. Once you come to terms with its existence, it's no longer an issue.
So when Beyond the Sea opens, we find Spacey, playing Darin, playing a younger version of himself in a film biography. Darin comes face-to-face with his inner-child, a kid who questions his motives, exposes his warts. When self-doubt begins to consume him, Darin asks a friend if he's too old to play the part. The friend reassures him that he's Bobby Darin, who better to play the part?
Once Spacey gets that out of his system, he becomes Darin, guiding us through an abbreviated tour of the performer's short albeit electric life. Darin has been a lifelong Spacey passion, and Spacey plays him passionately. From his humble beginnings to his meteoric rise in the recording and movie industries, Darin's life was ripe for drama and melodrama. Writers Lewis Colick and Spacey avoid painting Darin as a Patron Saint of Pop Singers, briefly but effectively exploring the inner demons that haunted many performers of his era.
Darin's rise to prominence, both as a singer and an actor, came just before the war in Vietnam and the radical shift in popular entertainment. Just as he was beginning to enjoy the security of success, his star started to fade. A pervasive heart condition and continued career rejection eventually took their toll on Darin, but not before making inroads back into the music business.
Spacey is quite engaging as Darin, affecting not only his mannerisms, but his stage presence. Once we accept Spacey as Darin, rarely do we see anyone else on the screen. Even Spacey's vocals resonate with authenticity, whether he's singing on stage or pursuing Sandra Dee through the streets of Rome. Of all the cinematic flourishes Spacey heaps on Beyond the Sea, incorporating Darin's songs into full-blown movie musical moments is my favorite.
Remember that moment in Living Out Loud, when Holly Hunter, dancing by herself at a nightclub, is joined by two women, and before you know it everyone on the floor is doing the exact same moves? That's what Spacey accomplishes in Beyond the Sea. Just when we think we're in for a stuffy biography about another Rat Pack-era singer, Beyond the Sea breaks out into song and dance.
Having Bobby Darin sing Beyond the Seas as he chases down and courts Sandra Dee (Kate Bosworth) while shooting a film in Rome not only rocks, it makes sense within the context of the film. Darin's life was filled with music, from his early childhood to his last breath, so Spacey and Colick wisely assimilate the songs as part of the overall milieu.
That spares us from having to sit through a bunch of unnecessary concert performances, allowing Spacey to pursue other avenues of Darin's life. Bosworth is stunning as Dee, young, pure, almost innocent, a facade that is quickly shattered. Spacey surrounds himself with a cast of sturdy players, including Bob Hoskins as Darin's brother-in-law, John Goodman as his agent, Brenda Blethyn as his mother, and an extremely sympathetic Caroline Aaron as his sister.
I'm not sure who the target audience for Beyond the Sea is. It's a vanity project, but it's not one done in vain. It's funny, engaging, gorgeous to look at and dishes enough information to give it weight.
Sea Worthy
Spacey Channels Late Crooner Bobby Darin
BEYOND THE SEA
Kevin Spacey, Kate Bosworth, John Goodman, Bob Hoskins, Brenda Blethyn, Greta Scacchi, Caroline Aaron, William Ullrich. Directed by Spacey. Rated PG-13. 121 Minutes.
LARSEN RATING: $7.00