The Beguiled
There's no vengeance like a woman scorned, as Union soldier John McBurney learns the hard way in "The Beguiled." Director Don Siegel and actor Clint Eastwood had already become an item before they teamed on this Southern gothic morality play. Siegel had directed Eastwood in "Coogan's Bluff" and "Two Mules for Sister Sara," and would go on to direct Eastwood in his signature role in "Dirty Harry.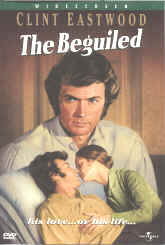 " Both the director and the actor approached "The Beguiled" with apprehension. Neither Siegel nor Eastwood were excited about the revisions made to Thomas Cullinan's dark and disturbing novel. After numerous script revisions, Eastwood and Siegel were happy. I remember seeing "The Beguiled" in a theater when it opened in 1970, but I was only 13 at the time, and was more impressed with the fact that I got into an R-rated movie than with the movie itself. My how times have changed. Thanks to Siegel's calculated direction and a taut, tight screenplay that brings out the best in the cast, "The Beguiled" is a haunting chamber piece. Most of the action takes place inside one of those stunning Southern mansions that's been transformed into an all-girls private school. As the war rages on outside the wrought iron gates, headmistress Geraldine Page tries to maintain a civility inside. When one of the girls brings home a wounded Yankee (Eastwood), his presence sets into motion a series of events that will alter all of their lives. Page is excellent as the sexually repressed headmistress haunted by memories of an incestuous affair with her brother. There's a lot of sexual tension in the air, and Yankee John McBurney is willing to do what he can to resolve that little issue. It's not long before everyone starts throwing themselves at Eastwood, who takes advantage of the situation and the women. Now that's playing with fire. Against the wishes of some of the students, the rest agree to hide McBurney until he is strong enough to survive a Confederate prison camp. What they really want is more time to ply their various charms. Fooling around with two women is dangerous, but could you imagine what would happen if all four of your flings found out about each other at the same time? Ouch! There isn't a bad performance in the bunch, and the escalating sense of danger and foreboding is as intense as they come. As a morality play, "The Beguiled" has a lot to offer.
COMPLETE CHECK-UP
VISION: [ x ] EXCELLENT [ ] GOOD [ ] RESUSCITATE [ ] D.O.A.
Director Don Siegel shot "The Beguiled" in warm, muted earth tones as a striking contrast to the crimson reality of the violence it contains. It's a carefully manipulated environment that looks spectacular on DVD. The digital transfer is perfect. The film never looked better. Presented in anamorphic 1.85:1 widescreen, the somber browns and greens look natural and honest. The flesh tones are especially accurate. Except for an extreme close-up of Eastwood at the end of the film, I didn't notice any artifacts or garbage. There are numerous softly lit scenes that could have presented encoding problems, yet the blacks are strong and vivid.
HEARING: [ ] EXCELLENT [ x ] GOOD [ ] RESUSCITATE [ ] D.O.A.
The DVD features Dolby Digital 2 Channel Mono tracks in English and French. They get the job done, but offer nothing spectacular. There's some delicate dialogue that almost gets lost. The Lalo Schifrin score is used sparingly, but when it does make an appearance, it sounds full and vibrant.
ORAL: [ ] EXCELLENT [ x ] GOOD [ ] RESUSCITATE [ ] D.O.A.
Captioned in English for the hard-of-hearing and subtitled in Spanish.
COORDINATION: [ ] EXCELLENT [ x ] GOOD [ ] RESUSCITATE [ ] D.O.A.
The bonus materials include the standard production notes, cast and film makers' bios and scene access. There's also a theatrical trailer, which you must definitely play. I love coming attraction trailers, and even spent five hours one evening at the Rialto Theater in Hollywood sitting through nothing but coming attractions. "The Beguiled" trailer features a narrator who sounds like his voice is coming out of one of those old tin speakers at the drive-in. It was so nostalgic it brought tears to my eyes.
PROGNOSIS: [ ] EXCELLENT [ x ] GOOD [ ] RESUSCITATE [ ] D.O.A.
"The Beguiled" has a lot going for it. First and foremost, the DVD looks great. I believe it even looks better than when I saw it in a theater. The film also presents strong female characters at a time when women were still finding their collective voice on screen. It's also one of Clint Eastwood's better performances, a sly, calculated wolf in sheep's clothing. I'm glad I have a copy in my DVD library.
VITALS: $24.95/Rated R/105 Min./Color/16 Chapter Stops/Keepcase/#20238
ATTENDING RESIDENT: John Larsen
PATIENT: THE BEGUILED
BIRTH DATE: 1970
HMO: Universal Pictures Home Video