Before Night Falls
"Before Night Falls" isn't a great film, but it does feature a great performance from Javier Bardem, one of Spain's leading exports. As Cuban poet and writer Reinaldo Arenas, Bardem delivers a soulful performance filled with understanding and understatement. If only the film was as brave and bold.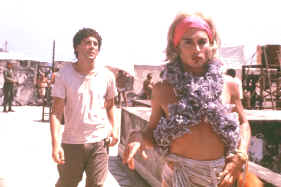 I didn't know anything about Arenas before I saw "Before Night Fall." After seeing the film, I still don't know much about the man. Writers Cunningham O'Keefe, Lazaro Gomez Carriles, and Julian Schnabel deliver a patchwork of a script that seems to be all over the place. The writer's attempt to cover so much territory creates a film of epic proportions that frequently loses focus of its intimate subject.
If it weren't for the strong performance of Bardem, "Before Night Falls" would fall flat on its face. Bardem injects so much humanity and conviction into his role that he makes the film necessary. He ignites the screen, breathing life into the character until he becomes real to us. Even when the situations surrounding Arenas seem trite and artificial, Bardem never is.
Director Schnabel shows obvious passion for his subject, perhaps too much. If he wasn't so close to the material he might have been able to see that his scope was too broad. That only allows him to touch base on the writer's life. We never really get to know Arenas.
Which is sad, because his life was obviously filled with the sort of real life melodrama that makes for must see T.V. Born into poverty, Arenas learned quickly that his talent for writing set him apart from his classmates. His youthful dreams of joining the revolution become a nightmare when he becomes politically and personally persecuted for his writings and homosexuality.
Told against the panoramic backdrop of 1943-1981, "Before Night Falls" takes us on an exotic journey that shows us places, people and things we rarely get a chance to see. Most films about Cuba under Castro's rule have the feel of an outsider looking in. "Before Night Falls" feels like an inside job. It looks authentic. Schnabel has done an excellent job of creating time and place.
What's missing is the intimacy. We watch as Arenas comes of age and discovers his sexuality, but none of it ever feels sexual. It's all matter of fact. The script is like taking the plane instead of driving. The final destination is the same, but when you drive, you see so much more. Schnabel and his co-writers are in such a hurry to get to the end that they seldom stop long enough to allow the characters and scenes to mature.
So "Before Night Falls" becomes nothing more than the sports highlight tape of persecuted gay Cuban poets. We jump from highlight to highlight, dropping in for a few moments, getting a taste of Arenas' life. The film's best moments come when Arenas hooks up with Pepe Malas (Andrea Di Stefano), his flamboyant friend who helps guide him through Cuba's gay underground. The contrasts between their gay and carefree lifestyle against those of their confinement in a hell hole of a prison are truly haunting.
The prison scenes are also a potent reminder of what "Before Night Falls" is really about. It's about being a prisoner, either in one's own mind or in real life. Images of water play a vital role in Schnabel's vision, representing freedom and hope. The film opens with a downpour, cleansing the small village where Arenas and his family live. Arenas meets his first real love at the beach, while the water surrounding the island is the only thing keeping Arenas from a more tolerant world.
Schnabel, whose previous film, "Basquiat," also dealt with a tormented artist, hasn't made a bad film, or even a badly directed film. He's just bitten off more than he can chew Some moments in "Before Night Falls" are priceless. Others I wouldn't pay for. I've seen worse, and Schnabel never embarrasses himself or his actors.
Di Stefano is quite engaging as Malas, never allowing the character to become a caricature. He's given little time to layer Malas, yet manages to make him a person that we can care about. Johnny Depp has fun as a prison transvestite named Bon Bon who helps Arenas smuggle his latest novel out, and again as a prison Lieutenant with a slightly different bent. Depp's double duty plays better than Sean Penn's stunt casting as a peasant.
Perhaps the best thing about "Before Night Falls" is that it will encourage people to learn more about Arenas, and perhaps read some of his work. The haunting passages that filter through the narrative provide just a small glimpse of the man. Schnabel's film serves as a perfect primer.
POETRY EMOTION
Great performance by Bardem elevates so-so bio pic
BEFORE NIGHT FALLS
Javier Bardem, Olivier Martinez, Andrea Di Stefano, Johnny Depp, Michael Wincott, Sean Penn. Directed by Julian Schnabel. Rated R.
LARSEN RATING: $5