Baseketball
First things first. I'm a big fan of "South Park." Have been since the beginning. Some of my friends think I'm immature and childish for watching the show, much less liking it. Tough cookies. I like irreverent humor. I like edgy humor. I like politically incorrect humor. I used to do stand up comedy, and the material that always got everyone's attention was the off-the-wall stuff. The slightly askew stuff. Humor that seemed comfortably familiar, yet with a wicked twist. One of my favorite jokes?
I killed my neighbors because the voices in my head said that they were sons of Satan. Then one day I cleaned out my ears with a Q-tip, and the voices said, no, we said they were Scandinavian.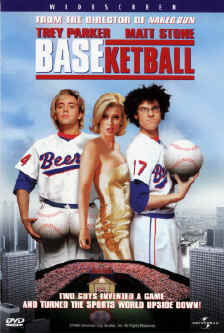 So basically I killed my neighbors because they were Nordic. That's the twisted kind of humor in "Baseketball," a delightfully nasty comedy about men and their balls. Big balls. Baseballs the size of basketballs. "Baseketball" is the latest comedy from director David Zucker, whose foray into off-kilter comedy includes "Airplane," "The Naked Gun" and "Ruthless People." This guy knows comedy. Even when the jokes fall flat, there's another one in the wing waiting to tickle your funny bone. I call it scattershot humor. Hit the audience with as many jokes as you can and hope that some of them stick. Well, I'm thrilled to report that "Baseketball" is very sticky, in more ways than one. Yes, it's very sophomoric. Yes, it often goes for the groin kick or lowest common denominator. Yes, it's immature and childish. Yes, I loved every minute of it. Trey Wilson and Matt Stone, the bad boy creators of "South Park," star as Joe Cooper and Doug Remer, lifelong friends whose drive-way sport of "Basketball" becomes a national past time. Cooper and Remer play for the sport, but when they're bought and backed by millionaire Ted Denslow (Ernest Borgnine), they not only become the driving force behind a new sport, but heroes as well. They end up with endorsement deals, and play in stadiums named after dubious products. It's no longer just a game, but an international conglomeration that attracts business tycoon Baxter Cain (Robert Vaughn). When Denslow dies, his attractive widow (Jenny McCarthy, able to suck the chrome off a trailer hitch) teams up with Cain to take the franchise away from the guys. It's all just a framework to slip in one outrageous joke after another. The writer's take no prisoners, poking fun at everything from sick children to human sexuality. One of my favorite gags has Cain encountering Cooper and Remer in the locker room. The guys are butt naked, but we only see them from the rear. It's insinuated that they're abnormally large, and the proof comes when Cain tosses a package of pictures on the table in front of them. Look closely and you'll notice that Cooper and Remer have three legs each. It's a quick sight gag, and I had to play it back to make sure that what I saw was what I thought I saw. I like comedies like "Baseketball" because everyone seems to be in on the joke. How else do you get people like Ernest Borgnine, Robert Vaughn and even Robert Stack to say and do the things that they do? If you like comedies like "Airplane" and "The Naked Gun," you will no doubt appreciate the effort. Even in their live action form, Trey Parker and Matt Stone tickle me. They're naturals in this arena, and had me on the floor in stitches when they shared a wet kiss, tongue and all. Ewww!
COMPLETE CHECK-UP
VISION: [ X ] 20/20 [ ] Good [ ] Cataracts [ ] Blind
Outstanding digital transfer in the film's original 1.85:1 widescreen ratio. A superior transfer on all fronts. The color saturation is perfection, not too hot, not too cold. The flesh tones were so life like you could reach out and touch them. No trace of compression artifacts. Instead, the original negative delivers a near perfect picture, with sharp, vivid images that display good detail and incredible depth of field. The blacks are industrial strength, while the whites are clean and pure. The DVD has been enhanced at 16:9 for widescreen televisions.
HEARING: [ X ] Excellent [ ] Minor Hearing Loss [ ] Needs Hearing Aid [ ] Deaf
The film's playful soundtrack comes alive thanks to a lively 5.1 Dolby Digital Surround track. Outstanding dialogue mix makes the jokes easy to hear and understand, while the surround stereo is effective and boisterous. The ambient noise is especially striking, surrounding you in a chaotic whirlwind of natural and comedic effects. Ira Newborn's jazzy score takes full advantage of the sound system's high and low ends, presenting a clean, clear stream of aural delight. Spatial separation is evident throughout, especially during the second half of the film.
ORAL: [ X ] Excellent [ ] Good [ ] Poor
Closed captions in English and subtitles in French and Spanish.
COORDINATION: [ ] Excellent [ X ] Good [ ] Clumsy [ ] Weak
Even though "Baseketball" isn't a special or collector's edition, it does come with some snappy extras. There's a 10-minute behind-the-scenes documentary that features interviews with the cast and crew, plus B-Roll looks at some of the film's set-ups. There's also a healthy choice of cast & crew bios & filmographies, plus production notes and the film's original theatrical trailer. There's also handsome and convenient main and scene access menus, and web links to Universal Studios Home Video's web site.
PROGNOSIS: [ ] Excellent [ X ] Fit [ ] Will Live [ ] Resuscitate [ ] Terminal
They shoot! They score!
VITALS: $24.98/Rated R/104 Minutes/Color/30 Chapter Stops/Keepcase/#20430
ATTENDING RESIDENT: John Larsen
PATIENT: BASEKETBALL
BIRTH DATE: 1998
HMO: Universal Studios Home Video