Arachnophobia
I used to raise tarantulas, so spiders really don't give me the creeps. I've always believed in live and let live, and will more often than not try to move an indoor spider back outdoors instead of squashing it. Potato Bugs are another story. They give me the creeps. Honestly. So for me to thoroughly enjoy the giddy nature of "Arachnophobia," the directing debut of producer Frank Marshall, I just envisioned the creepy crawlies in the film as Potato Bugs. Mission accomplished, as I found "Arachnophobia" to be a fun-filled adventure with enough chills and thrills to satisfy most audiences.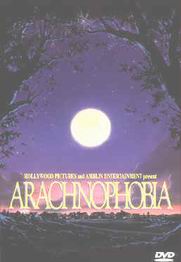 "Arachnophobia" was the first film to display the Hollywood Pictures banner, and what an auspicious debut it was. The film contained all of the elements that Marshall had mastered under his mentor and partner Steven Spielberg. The screenplay by Don Jakoby and Wesley Strick is filled with familiar themes an characters, yet Marshall and his eight- legged furry little creatures manage to keep things jumping. "Arachnophobia" begins in a deep, dark corner of the South American rainforest, where Dr. James Atherton (Julian Sands) leads an expedition for new and rare species of spiders. He's an expert on the subject, and has hired a photographer (Mark L. Taylor) to record his findings. Unfortunately, the photographer gets more than he bargained for when he is bitten by a toxic spider and dies. Even worse, the spider is packed with the body and sent off to the local coroner's office in a small town in Northern California. New to this small hamlet is Dr. Ross Jennings (Jeff Daniels), who has come to take over the practice of the elderly retiring physician (Henry Jones).
Jennings expects to begin a new life with his wife Molly (Harley Jane Kozak) and kids in this little slice of heaven, but ends up fighting for his life when the deadly spider takes us residence in his barn and begins breeding. Taking its cue from "Raiders of the Lost Ark" and Indiana Jones' phobia with snakes, Jennings is deathly afraid of spiders. Big spiders, small spiders, it doesn't matter. Killing them is a man's job, and that man is Molly. When several of the locals die unexpectedly, Jennings suspects something other than natural causes. Of course he is met with skepticism from the local officials, but that doesn't deter him from trying to discover the cause of death. When he learns that a spider is involved, Jennings calls in Atherton's assistance Chris Collins, who in turn summons his boss. Also on the scene is master exterminator Delbert McClintock (John Goodman), who is prepared for any sort of arachnid emergency. Together they attempt to eradicate the countryside of the deadly spiders, but not with a fight. What makes "Arachnophobia" so much fun is Marshall and the screenwriter's ability to put us in a fun house situation and make us squirm.
There are riffs on other films (the "Psycho" shower scene instantly comes to mind), but "Arachnophobia" stands on its own as grand entertainment. Daniels perfectly embodies the spirit of a man who has a backbone but needs a little pushing to make it stand up straight. Goodman is the stand-out, making the bug exterminator a character you can root for. The rest of the cast fits nicely into the scheme of things, while the technical credits are outstanding. Cinematographer Mikael Salomon uses shadows to create suspense and tension, while Trevor Jones' musical score emphasizes the highs and lows with perfection. Originally released in 1990, "Arachnophobia" is the kind of film that will bug you for years to come.
COMPLETE CHECK-UP
VISION: Good
Unlike most Disney DVDs, "Arachnophobia" looks a little hazy. It's not detrimental, but it doesn't have that pristine look I have come to expect from a Disney digital transfer. While the colors are extremely vivid, with excellent saturation and appealing flesh tones, there's not very much depth of field. I remember seeing "Arachnophobia" at a press screening when it first came out, and this transfer doesn't pack the same punch as the projected version. Blacks are strong, and while the negative seems free of flaws, the opening credits tend to ghost. The film is delivered in its original 1.85:1 widescreen ratio.
HEARING: Excellent
Breathtaking 5.1 Dolby Digital Surround soundtrack that is a creepy as the movie. The Ambient noise is especially vivid, with little distractions popping up everywhere. I forgot to turn off the DVD when I had to retrieve a package at the door, so I wasn't aware that the movie was still playing when I returned. When I walked in into the room, I heard some mysterious rustling, and I thought for sure a rat or something had found its way into one of the closets. Naw. It was just the spiders in the film rustling through some hay. Quite realistic. The stereo split is excellent, while the front to rear spatial split is more than adequate. Dialogue mix is outstanding, while the soundtrack features strong basses and precision high ends. No audible hiss or distortion. Trevor Jones' musical score sounds terrific, oozing out of the theaters with gusto.
ORAL: Good
Closed caption in English for the hard of hearing.
COORDINATION: Good
Handsome main and scene access menus, plus a small production featurette and the film's original theatrical trailer. The DVD also features the usual reel recommendations.
PROGNOSIS: Fit
Definitely worth a rental.
ATTENDING RESIDENT: John Larsen
PATIENT: ARACHNOPHOBIA
BIRTH DATE: 1990
HMO: Hollywood Pictures Home Video