3 Days of the Condor
Like a lot of things in my life, "3 Days of the Condor" has a special place in my heart. My family had a tradition of going out on New Year's Eve. First we would have dinner, then we would go bowling, and finally we would take in a movie as the New Year rolled in. That year my friend Donna tagged along. I had known Donna since I was seven (she was six), and even though we lost touch when I moved away, we reconnected several years later and have been inseparable ever since.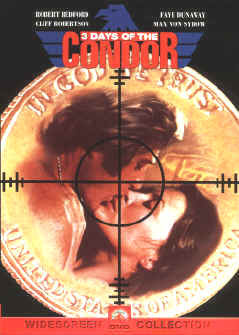 The movie we picked for New Year's Eve 1975 was "3 Days of the Condor." It was playing at a little movie theater called the Marina Cinema. I was friends with the owners of the theater, so they always let me and my family in for free. The theater wasn't crowded New Year's Eve or else we would have insisted on paying. I would never deprive a theater (much less a friend) the opportunity to sell a seat they would usually give me for free. I didn't know much about "3 Days of the Condor" except that it starred the guy from "Butch Cassidy and the Sundance Kid" and the woman who played Bonnie Parker in "Bonnie and Clyde." Actually, by the time "3 Days of the Condor" arrived in 1975 I was well versed in all things cinema.
However, except for the theatrical trailer, I knew absolutely nothing about the film. Isn't that the way to see all movies? Stone cold sober? The film came with little hype, yet by the time the final frame unraveled into the New Year, I knew I had seen a great film. Indeed, "3 Days of the Condor" is a great film, one that holds up extremely well after 24 years of making the rounds. That's the difference between a good film and a great film. Great films will always be great films, and after sitting through "3 Days of the Condor" for what has to be the 30th time, the film still blows me away. Everything in the film clicks, from the smart, clever screenplay by Lorenzo Semple Jr. and David Rayfiel, to the immensely entertaining performances by all involved. Director Sydney Pollack pulls it all together into a tightly knit suspense-thriller that works on so many different levels.
On one level it's your basic spy thriller, with CIA book reader Robert Redford trying to figure out why his entire sector has been killed. On another level, it's a gut wrenching cat and mouse chase, with Redford constantly outwitting hired assassin Max Von Sydow. Then there's the intense, adult love story between Redford and Faye Dunaway. She's the poor woman picked by Redford to help him sort out his problem. Based on the novel "6 Days of the Condor" by James Grady, the screenplay carefully connects all of the pieces together into a powerful plot that never slows down.
Upon first viewing, you're in the same boat as Redford's character. You don't know who to trust. Everyone is a stranger, and every stranger could be an assassin. Paranoia runs high as Redford uses his book smarts to stay one step ahead of the people trying to kill him. This plot device allows the writers to place Redford into several clever situations, including his ability to foil the phone trace of the CIA by connecting numerous phones together. The film constantly surprises. I especially liked the exchange of dialogue between Redford and Dunaway as he evaluates her character's photography skills. There isn't a false note in the film, nor performance. Pollack has recruited some heavyweight talent to flesh out the background, including Oscar winners Cliff Robertson and John Houseman as CIA officials with varying agendas.
Owen Roizman's cinematography is a definite plus, while David Grusin's musical score is one of his best, a haunting blend of saxophones that reminded me of Bernard Herrmann's score for "Taxi Driver." I immediately went out and bought the soundtrack. Redford is excellent, a fetching combination of rugged hero and vulnerable, lost puppy. He always rises to the occasion, but he has moments of intense reflection that are deep and thoughtful. Dunaway is absolutely stunning as the photographer whose life is turned upside down, while Max Von Sydow creates a character that transcends the usual cliches. Pollack's pacing is deliberate and at times unnerving.
He knows when to kick the film into high gear, but more important, when to slow the film down long enough to give the characters more to do than run away from each other. "3 Days of the Condor" remains one of my favorite films for several reasons, but the bottom line is that the film remains just as vital and exciting today because it is.
COMPLETE CHECK-UP
VISION: [ X ] 20/20 [ ] Good [ ] Cataracts [ ] Blind
I was constantly amazed at how sensational this film looked on DVD. The digital transfer retains the film's 2.35:1 widescreen ratio (enhanced at 16:9 for widescreen televisions) and except for some minor wear and tear, the images are sharp and vivid. I expected lots of flecks and more noticeable wear and tear, but I was happily disappointed. The images are absolutely breathtaking, including warm colors, exceptional flesh tones and impenetrable blacks that hold up under the most dire of situations. Depth of field was vivid, with excellent attention to detail. I haven't seen the film look so good since I first saw it in a theater.
HEARING: [ X ] Excellent [ ] Minor Hearing Loss [ ] Needs Hearing Aid [ ] Deaf
Pleasant yet not overpowering remastered 5.1 Dolby Digital Surround soundtrack does a decent job. The dialogue mix is excellent, while the stereo effects are okay but not definitive by any means. Ambient noise is evident and appreciated, while Dave Grusin's haunting saxophones pour out of the speakers with clarity. The rear speakers are basically instruments to pump through the occasional musical cue or ambient noise, but not surround effects. I wasn't expecting a 5.1 remastered soundtrack (the DVD also features a 2.0 Dolby Surround track), so I was pleasantly surprised by the effort extended. No noticeable hiss or distortion.
ORAL: [ ] Excellent [ X ] Good [ ] Poor
Closed captions in English for the hard of hearing.
COORDINATION: [ ] Excellent [ ] Good [ X ] Clumsy [ ] Weak
Main and scene access menus, plus the film's original theatrical trailer.
PROGNOSIS: [ X ] Excellent [ ] Fit [ ] Will Live [ ] Resuscitate [ ] Terminal
For top notch entertainment, fly with this "Condor"
VITALS: $29.98/Rated R/117 Minutes/Color/16 Chapter Stops/Keepcase/#088037
ATTENDING RESIDENT: John Larsen