Where's the Party Yaar?
Harish Kumar Patel lives with his mom and dad in Bhimnagar, Gujerat, India, where he is studying Electronic Engineering. His dad, Satish Kumar, wants him to re-locate to the U.S., live with the Bakshis, study, and marry the girl of his choice. Harish must first go through the blessings of an Astrologer, Bholey Shankar Maharaj, who blesses him, informs him that he will meet a girl whose name will start with "P", who he will marry. An overly excited Harish travels all the way to Houston, Texas, U.S. where he is met fondly by the Bakshi family, consisting of Mrs. and Dr. Bakshi, Mohan, and Deepu. In keeping with the fear and paranoia after the September 11 attacks, Mrs. Bakshi has made it a practice to place American flags in the front pockets of her sons, and she does it now for Harish as well. Mohan is around Harish's age and shows him around the campus. Harish meets with a beautiful Malyalee girl, Priya, and falls in love with her. But things do not go as planned when Harish finds out that Mohan actually is a snob, who hates F.O.Bs. (Fresh off the Boat) Indians like him; the girl Priya is actually in love with another young man by the name of Raju, and her name's not Priya – it's Supriya; and due to Harish's accent, oily hair, & c. he is not being invited to the party where everybody else is invited. Looks like Harish is headed for more pitfalls than he had bargained for, and it also looks like the Maharaj may have been wrong after all.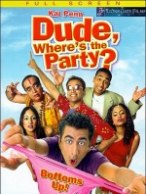 Title: Where's the Party Yaar?
Release Date: 2003
Genres: Comedy
Directors: Mathews, Benny
Actors:
Penn, Kal as Mo (Mohan Bakshi)
Malhotra, Sunil as Hari (Harishkumar Patel)
Shah, Prem as Ray (Ramesh Kumar)
Cherian, Tina as Priya Varghese
Varghese, Serena as Janvi Valia
Thakkar, Sunil as Shyam Sunder Balabhadrapatramukhi
Dave, Mousami as Poonam Mehta