Tombstone
A hollywood historical account of Tombstone, Arizona's famed "Shootout at the O.K. Corral" and the events that led up to it. Tension between "the Law" and "the Cowboys" stirs as the Cowboys, led by "Curly Bill" Broscius, accuse the Earps (Wyatt, Virgil, and Morgan) and their outlaw/gambler associate "Doc" Holliday of interefering with their operations inside and outside of town. While fairly accurate in depicting the Earps and Cowboys lifestyles and the Earp/Holliday side of the story, the film leaves out one major point of fact. Historically, the Earps/holliday are accused by the Cowboys (aka the Clanton/MacLaurey gang) of being generally corrupt and specifically responsible for a Wells Fargo robbery which left a man dead and the coach cleaned out. The Earps/Holliday in turn accuse the Clanton/MacLaurey's of the same. Tempers rise over this situation as well as over a court decision finding the Earps not guilty.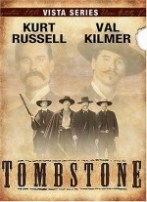 Title: Tombstone
Release Date: 1993
Genres: Action, Drama, Western
Directors: Cosmatos, George P.
Actors:
Russell, Kurt as Wyatt Earp
Kilmer, Val as Doc Holliday
Elliott, Sam as Virgil Earp
Paxton, Bill as Morgan Earp
Boothe, Powers as Curly Bill Brocious
Biehn, Michael as Johnny Ringo
Heston, Charlton as Henry Hooker
Priestley, Jason as Deputy Billy Breckinridge
Tenney, Jon as John Behan, Cochise County Sheriff
Lang, Stephen as Ike Clanton
Church, Thomas Haden as Billy Clanton
Delany, Dana as Josephine Marcus
Malcomson, Paula as Allie Earp
Collins, Lisa as Louisa Earp
Wheeler-Nicholson, Dana as Mattie Blaylock Earp, aka Celia Maddon