Three Kings
George Clooney, Mark Wahlberg and Ice Cube star in "Three Kings," the story of a small group of adventurous American soldiers in Iraq at the end of the Gulf War who are determined to steal a huge cache of gold reputed to be hidden somewhere near their desert base. Finding a map they believe will take them to the gold, they embark on a journey that leads to unexpected discoveries, enabling them to rise to a heroic challenge that drastically changes their lives.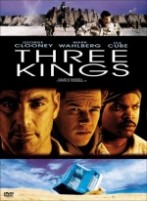 Title: Three Kings
Release Date: 1999
Genres: Action, Adventure, Comedy, Drama, War
Directors: Russell, David O.
Actors:
Taghmaoui, Saïd as Capt. Said
Clooney, George as Maj. Archie Gates
Wahlberg, Mark as Sfc. Troy Barlow
Cube, Ice as SSgt. Chief Elgin
Jonze, Spike as Pfc. Conrad Vig
Curtis, Cliff as Amir Abdullah
Dunn, Nora as Adriana Cruz
Kennedy, Jamie as PV2 Walter Wogaman
Williamson, Mykelti as Col. Horn
McCallany, Holt as Capt. Doug Van Meter
Greer, Judy as Cathy Daitch
Lohr, Christopher as Teebaux
Sklaroff, Jon as Paco
Stauber, Liz as Debbie Barlow, Troy"s Wife
Horan, Marsha as Amir"s Wife