Snakes on a Plane
When Sean Jones witnesses a murder, he is asked to fly from Hawaii to Los Angeles to testify against the notorious gangster Eddie Kim. However, Kim has paid an assassin to release a crate-full of deadly snakes loose when the plane is 30,000 feet in the air. Only FBI agent Neville Flynn can protect Sean and rally the passengers together in hope of landing in L.A. alive.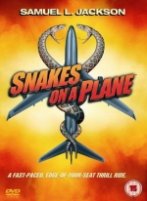 Title: Snakes on a Plane
Release Date: 2006
Genres: Action, Adventure, Thriller
Directors: Ellis, David R.
Actors:
Jackson, Samuel L. as Neville Flynn
Margulies, Julianna as Claire Miller
Phillips, Nathan as Sean Jones
Blanchard, Rachel as Mercedes
Alexander, Flex as Three G"s
Thompson, Kenan as Troy
Dallas, Keith as Big Leroy
Shaye, Lin as Grace
Bruce, James as Ken
Mabrey, Sunny as Tiffany
Dubois, Casey as Curtis
Hogarth, Daniel as Tommy
Plunkett, Gerard as Paul
Chen, Terry as Chen Leong
Pataky, Elsa as Maria