Shredderman Rules
Based on the children's book series written by Wendelin van Draanen comes Shredderman. Nolan Byrd (Devon Werkheiser) is a scrawny 5th grader who, like all the other kids, is bullied by Bubba Bixby (Andrew Caldwell). When their teacher Mr
. Green (Tim Meadows) allows the students to do a computer project, Nolan decides to catch Bubba in action. Several other books have followed.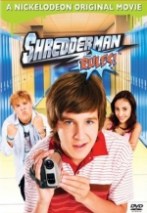 Title: Shredderman Rules
Release Date: 2007
Genres: Comedy
Directors: Holland, Savage Steve
Actors:
Werkheiser, Devon as Nolan Byrd
Meadows, Tim as Mr. Green
Roebuck, Daniel as Bob Bixby
Caldwell, Andrew as Bubba Bixby
Berry, Kendre as Max
Burnett, Tj as Young Max
Coulier, Dave as Mr. Byrd
De"Antone, Marc as Mac & Cheese Cook
Goris, Parker as Boy with Remote
Henry the III as Art The Fart
III, Henry the as Art the fart
Lee, Justin as Todd
Sanders, Kyle as Wally
Smathers, Chad W. as Randy
Taylor III, Henry E.