Ringer, The
This comedy is about two guys who decide to rig the Special Olympics to pay off a debt by having one of them, Steve (Knoxville), pose as a contestant in the games, hoping to dethrone reigning champion, Jimmy. Mentally-challenged high jinks and hilarity surely follow.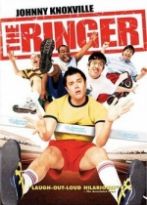 Title: Ringer, The
Release Date: 2005
Genres: Comedy, Sport
Directors: Blaustein, Barry W.
Actors:
Knoxville, Johnny as Steve Barker
Cox, Brian as Gary Barker
Heigl, Katherine as Lynn Sheridan
Rees, Jed as Glen
Chott, Bill as Thomas
Barbanell, Edward as Billy
Howze, Leonard Earl as Mark
Geoffrey Arend as Winston
Taylor, John as Rudy
Avalos, Luis as Stavi
Flowers, Leonard as Jimmy
Gesner, Zen as David Patrick
Levy, Steve as Steve Levy
Dias, Alcides as Michael
Cerrone, Mike as Paulie