Monsters, Inc.
James P. Sullivan (AKA "Sulley") and Mike Wazowski pick up their paychecks at Monsters Inc., the utility company that generates energy from the goose bumps of children
. Sulley, the No. 1 scream-generator at the plant accidentally lets in a little girl into the monster world. Since monsters are actually terrified of children it's a major cause for alarm and a major headache for Sulley and Mike.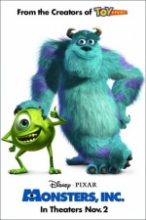 Title: Monsters, Inc.
Release Date: 2001
Genres: Animation, Comedy, Family, Fantasy
Directors:
Docter, Peter
Silverman, David
Unkrich, Lee
Actors:
Goodman, John as James P. "Sulley" Sullivan
Crystal, Billy as Mike Wazowski
Gibbs, Mary as Boo/Mary
Buscemi, Steve as Randall Boggs
Coburn, James as Henry J. Waternoose III
Tilly, Jennifer as Celia
Peterson, Bob as Roz
Ratzenberger, John as Yeti
Oz, Frank as Fungus
Gerson, Dan as Needleman/Smitty
Susskind, Steve as Floor Manager
Hunt, Bonnie as Flint
Pidgeon, Jeff as Bile
Black, Samuel Lord as George Sanderson
Angel, Jack as Additional Voice