Messenger of Death
Wifes and children of the Mormon Orville Beecham become victims of a massacre in his own house. The police believes the crime had a religious motive. Orville doesn't give any comment on the case, is taken into protective custody. Journalist Smith persuades him to help him in the investigation – and finds out about economic motives for the murder.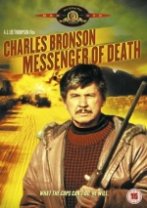 Title: Messenger of Death
Release Date: 1988
Genres: Thriller
Directors: Lee Thompson, J.
Actors:
Bronson, Charles as Garret Smith
Van Devere, Trish as Jastra Watson
Luckinbill, Laurence as Homer Foxx
Benzali, Daniel as Chief Barney Doyle
Hassett, Marilyn as Josephine Fabrizio
Dierkop, Charles as Orville Beecham
Corey, Jeff as Willis Beecham
Ireland, John as Zenas Beecham
Peyser, Penny as Trudy Pike
Davis, Gene as Junior Assassin
Solari, John as Senior Assassin
Cedar, Jon as Saul
Everett, Tom as Wiley
Gamble, Duncan as Lieutenant Scully
Williams, Bert as Sheriff Yates