Freedom Strike
National security is in jeopardy when terrorists seize an Iraqi nuclear reactor and threaten to attack American soil. Spearheaded by ace Tomcat pilots, the U.S. launches a surgical strike in a hell-for-leather effort to stop the assault.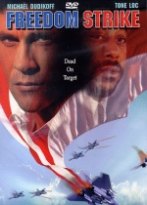 Title: Freedom Strike
Release Date: 1998
Genres: Action, Drama
Directors:
Jacobs, Jerry P.
Goldstein, Allan A.
Actors:
Dudikoff, Michael as Tom Dickson
Loc, Tone as Tyler Haynes
Waterman, Felicity as Maddie Reese
Anthony, Jay as Col. Rama
Coster, Nicolas as Adm. Torrance
Karen, James as President Mitchell
Fairman, Michael as Gen. Porter
Roman, Frank as Casey Billups
Peyser, Penny as Linda
Harper, Ron as Norman
Holland, Sean as Gary
Van Patten, James as Tactical Action Officer
Monroe, Bill Langlois as Capt. Mehl
Putch, John as Stanley Shaw
Kadi, Nicholas as Lt. Karbala