Butterfly Effect 2, The
Nick Larson and his best friends Trevor Eastman and Amanda are celebrating the twentieth-fourth anniversary of his girlfriend Julie Miller in a beautiful lake on a Sunday morning. Nick is expecting to be promoted in the company where he works, and Julie is planning to move to his place instead of going to New York for her Master degree. However, Nick is called by his colleague Dave Bristol, who is disputing the promotion with Nick, for a meeting with a client. While in the road, Nick has an accident and Julie and his friends die. One year later, Nick finds that he can travel in time and tries to fix the past, with tragic consequences for the future.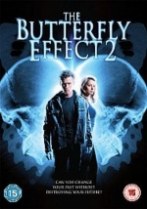 Title: Butterfly Effect 2, The
Release Date: 2006
Genres: Drama, Sci-Fi, Thriller
Directors: Leonetti, John R.
Actors:
Lively, Eric as Nick Larson
Durance, Erica as Julie Miller
Milligan, Dustin as Trevor Eastman
Holden, Gina as Amanda
Lewis, David as Dave Bristol
Airlie, Andrew as Ron Callahan
Gauthier, Chris as Ted
Hogan, Susan as Katherine Larson
Bourne, JR as Malcolm Williams
Maxwell, Lindsay as Grace Callahan
Vukelic, Zoran as Christopher
Wasserman, Jerry as Alberto Fuentes
Mann, John as Wayne
Bulmer, Tom as Executive
Sood, Veena as Nurse