American Pie 2
After their first year at college, the guys reunite for another summer of fun. Jim continues his quest for sexual independence by seeking the help of his old prom date, Michele, after an unexpected call from Nadia who plans to visit Jim. Meanwhile, Kev and Vicky find themselves in an awkward situation after having broken up for a year. Oz must deal with a long distance relationship when Heather heads off to France to study abroad. Old feuds die hard as the ever-so-horny Stifler harbors his hatred toward Finch, who is practicing the Hindu practice of Tantra.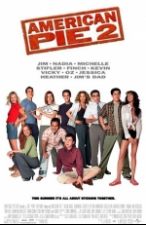 Title: American Pie 2
Release Date: 2001
Genres: Comedy, Romance
Directors: Rogers, James B.
Actors:
Biggs, Jason as Jim Levenstein
Elizabeth, Shannon as Nadia
Hannigan, Alyson as Michelle Flaherty
Klein, Chris as Chris "Oz" Ostreicher
Nicholas, Thomas Ian as Kevin Myers
Lyonne, Natasha as Jessica
Reid, Tara as Vicky Lathum
Scott, Seann William as Steve Stifler
Suvari, Mena as Heather
Thomas, Eddie Kaye as Paul Finch
Owen, Chris as Chuck Sherman
Levy, Eugene as Jim"s Dad
Cheek, Molly as Jim"s Mom
Faye, Denise as Danielle
Arturo, Lisa as Amber