After School Special
Deacon, Matt and Fred will do anything for even a glimpse of sex and spend their mornings pirating porno movies from Fred's after school job at the video store. But when Fred is fired, the well runs dry, and our heroes come up with a new plan: make their own "adult" film.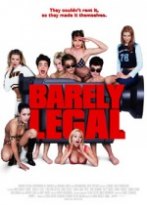 Title: After School Special
Release Date: 2003
Genres: Comedy
Directors: Evans, David M.
Actors:
von Detten, Erik as Deacon Lewis
Denman, Tony as Fred
Farber, Daniel as Matt
Potts, Sarah-Jane as Ashley
Smart, Amy as Naomi Feldman
Arnold, Tom as Mr. Lewis
Young, Dey as Mrs. Lewis
Smith, Riley as Jake
Vieluf, Vince as Tom "Coop" Cooperman
Levine, Samm as Roger
Richardson, Cameron as Rachael Unger
Sanz, Horatio as Vic Ramalot
Hedman, Anders as Max (K)
Driscoll, Eddie as Mike
Dillman, Brooke as Biology Teacher