007 On Her Majesty's Secret Service
Whilst on leave, British agent James Bond prevents a young woman, Tracy Draco, from committing suicide. Her father is the head of a powerful crime syndicate who is impressed by Bond and wants him to protect his daughter by marrying her. In exchange he offers Bond information which will lead 007 to his arch enemy Ernst Blofeld. At first Bond agrees to the deal purely to fulfil his objective to kill Blofeld but later he grows to love Tracy but when the British learn that Blofeld plans to destroy mankind with a deadly virus, 007 is torn between his loyalty to his county and his intent to marry Tracy.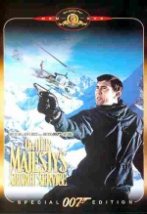 Title: 007 On Her Majesty's Secret Service
Release Date: 1969
Genres: Action, Adventure, Drama, Romance, Thriller
Directors: Hunt, Peter R.
Actors:
Lazenby, George as Commander James Bond, Agent 007
Rigg, Diana as Contessa Teresa "Tracy" Di Vicenzo
Savalas, Telly as Ernst Stavro Blofeld
Ferzetti, Gabriele as Marc Ange Draco
Steppat, Ilse as Irma Bunt
Maxwell, Lois as Miss Moneypenny
Baker, George as Sir Hilary Bray
Lee, Bernard as M aka The Admiral
Horsfall, Bernard as Campbell
Llewelyn, Desmond as Q
Borionko, Yuri as Grunther
North, Virginia as Olympe
Cheshire, Geoffrey as Toussaint
Allen, Irvin as Che Che
Mountain, Terence as Raphael