Trucks
I liked this movie the first time I saw it…as "Maximum Overdrive." That old song lyric "everything old is new again" is the anthem for this made-for-cable (USA Network) thriller based on the Stephen King short story. King himself made his director's debut with "Maximum Overdrive," a vicious little thriller about a road side diner full of people trapped by marauding trucks.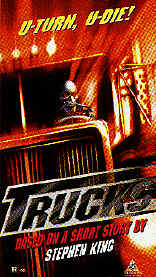 I liked "Maximum Overdrive" because King had the guts to do things most directors would never do. An equal opportunity destroyer, King killed off kids and dogs, a Hollywood no-no. Spielberg did the same thing in "Jaws," but nearly as graphically as King does in "Maximum Overdrive." When a kid on a bicycle faces down a steamroller, you just known in your mind that the kid will be saved at the last second.
Not in King's world. He rolls the kid over. Now that's what I call tough love. Then he shoves a radio-controlled car down the throat of a dog. That's one pup who won't be chasing any more cars. Of course it was all done tongue-in-cheek, but was vicious enough to almost earn King an "X" rating. I didn't see "Trucks" when it played on cable. I thought, what was the point? Then the DVD arrives on my desk, and I decide to give it a spin. Hey, it's my job. The verdict? "Trucks" is pretty much what you would expect from free cable. The film is now rated R, and like a lot of made-for-television movies released on video and DVD, it contains scenes too shocking for television. Unfortunately, these scenes seem gratuitous at best.
One involves a mailman, whose encounter with one of those radio-controlled cars ends badly; another a gory encounter with an axe. Then there's one expletive that sounds like it was dubbed in. There are some genuinely suspenseful moments in "Trucks," but they're wrapped around a pedestrian plot filled with characters who come from a WWWW casting call: whiners, wackos, wimps and wannabe's. They're all trapped by the renegade trucks in a diner in the small town of Lunar, Nevada, just miles down the street from the infamous Area 51.
Are alien forces at work? Well, they're very selective, because they knock out the phones and short wave radios, but allow the television to work whenever any expository dialogue is needed to advance the plot. How convenient. The cast is led by Timothy Busfield, who plays a father who has moved his son away from the big city after his wife was killed in a drive-by. He thought the kid would be safer in the desert. The actors are fine, but they're held back by one cliche after another.
They're forced to say and do stupid things in order to advance the plot. At least King knew the limitations of his set-up and had fun with it. The director of "Trucks" attacks every scene like he was making the ultimate apocalyptic statement. "Trucks" isn't that good, nor that much fun.
COMPLETE CHECK-UP
VISION: [ ] EXCELLENT [ X ] GOOD [ ] RESUSCITATE [ ] D.O.A.
Surprising for a made-for-cable feature, "Trucks" was shot in a 4:3 widescreen ratio. This helps pan out the action and takes emphasis away from the film's cable origins. While the colors are sharp, they're not vivid. The film's lighting is flat and unattractive. The digital transfer looks good despite this lack of depth. The blacks could have been stronger, but get the job done.
HEARING: [ ] EXCELLENT [ X ] GOOD [ ] RESUSCITATE [ ] D.O.A.
The 2.0 Dolby Surround track is effective but not overwhelming. The dialogue is crisp, but the surround sound doesn't put you in the middle of the action.
ORAL: [ X ] EXCELLENT [ ] GOOD [ ] RESUSCITATE [ ] D.O.A.
Closed captioned in English, subtitles in French and Spanish.
COORDINATION: [ ] EXCELLENT [ X ] GOOD [ ] RESUSCITATE [ ] D.O.A.
Interactive menus, scene access and the original trailer (notice I didn't say original theatrical trailer).
PROGNOSIS: [ ] EXCELLENT [ ] GOOD [ X ] RESUSCITATE [ ] D.O.A.
They say that imitation is the sincerest form of flattery. But what if it's a pale imitation?
VITALS: $24.99/Rated R/99 Min./Color/24 Chapter Stops/Keepcase/#VM6876D
ATTENDING RESIDENT: John Larsen
PATIENT: TRUCKS
BIRTH DATE: 1997
HMO: Trimark Home Video