Top Gun
Tom Cruise didn't know it at the time, but "Top Gun" was the second film in the Tom Cruise-military uniform theory of success. It started with "Taps." It continued with "Top Gun," then "Born on the Fourth of July," and finally "A Few Good Men." Every time Cruise puts on a military uniform, he's box office gold.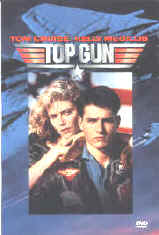 That's what director Tony Scott must have thought when he recruited Cruise for "Top Gun," a film that was at the time perceived as nothing more than an homoerotic recruiting film for the Navy. Get a bunch of good looking guys, let them fly fast fighter jets, and then have them spend the rest of the film hanging out without their shirts, or in their shorts or a towel. What slice of American could resist? Something for the boys, something for the girls. "Top Gun" struck a chord with America (and internationally), becoming the largest grossing film of 1986. And why not. It's wildly entertaining, excessively patriotic and just downright fun to watch.
Oh sure, the romantic subplot reeks of date night stunting, yet "Top Gun" soars every time the focus is on Cruise as hot shot pilot Maverick. With his fly buddy Goose (Anthony Edwards with hair), Maverick is the only pilot to have ever seen a real live MIG fighter up close and personal. That makes him and Goose candidates for the Navy's "Top Gun" flight school where they train the best of the best fighter pilots. Maverick's reputation precedes him (his father was a Navy flier), and puts him into immediate competition with the other pilots, including Val Kilmer, who finds Maverick's reckless behavior dangerous.
When Maverick isn't flying, he's pursuing civilian instructor Kelly McGillis, who has seen her share of hot shot fly boys. Of course she's attracted to Maverick. He's Tom Cruise. Luckily, the romance takes a back seat to the spectacular aerial showdowns that director Tony Scott manages to put us right in the middle of. With a pulsating musical score by Harold Faltermeyer (complimented by several songs from Kenny Loggins), "Top Gun" rocks and rolls with the best of them. Believable, sympathetic performances, white-knuckle, roller-coaster ride thrills and in-your-face direction, "Top Gun" emerges as first rate entertainment.
COMPLETE CHECK-UP
VISION: [ ] EXCELLENT [ X ] GOOD [ ] RESUSCITATE [ ] D.O.A.
The dual layer format disc features both the original widescreen and full-frame version of "Top Gun." Both look sensational, but there are traces of compression artifacts, and the original negative isn't pristine, adding to the problem. I hate to admit this, but the full-frame version looked cleaner than the 1.85:1 widescreen version, but both feature extremely vivid colors, flattering flesh tones, and impenetrable blacks. The color saturation is strong, while both versions feature sharp images and good depth. It's easy to get lost in "Top Gun" if you're set is large enough.
HEARING: [ X ] EXCELLENT [ ] GOOD [ ] RESUSCITATE [ ] D.O.A.
Hold on to your shorts, false teeth, hair pieces and any prosthetics you might have. The "Top Gun" DVD gives you a choice of excellent soundtracks, from the precision 5.1 Dolby Digital English surround track, to an awesome English Dolby Surround track that's also available in French. Be prepared to be blown away by the thundering basses, the clarity of the high ends, and an excellent mix that puts you right in the middle of the action. Superior dialogue mix never misses a beat, while the stereo effects are strong you can feel them bounce off of you. The music is so powerful that I would swear that Berlin was live in my home. Then I remembered that I let them camp out in the back bedroom until they can get a job, so after I told them to shut up and take a nap, the music on the DVD actually sounded better. Crisp and clean, with no noticeable hiss or distortions. The front-to-back separation is so vivid you'll see the sound waves ripple through the room in front of you.
ORAL: [ ] EXCELLENT [ X ] GOOD [ ] RESUSCITATE [ ] D.O.A.
Closed captions in English for the hard of hearing, and Spanish subtitles.
COORDINATION: [ ] EXCELLENT [ ] GOOD [ ] RESUSCITATE [ X ] D.O.A.
Each DVD comes with a leather flying jacket and goggles personally signed by Tom…okay, who am I kidding? There are no extras. Nada. You'll get nothing and like it.
PROGNOSIS: [ ] EXCELLENT [ X ] GOOD [ ] RESUSCITATE [ ] D.O.A.
It's "Top Gun," for goodness sakes. What more do you want?
VITALS: $29.98/Rated PG/109 Min./Color/30 Chapter Stops/Keepcase/#016927
ATTENDING RESIDENT: John Larsen
PATIENT: TOP GUN
BIRTH DATE: 1986
HMO: Paramount Home Video