Short Cinema Journal 1:2
The journal of short films continues with issue two, titled "Dreams." Twelve short films, interviews and documentaries flesh out the second collection, including a behind-the-scenes look at director Jane Campion's "Portrait of a Lady," with Nicole Kidman and John Malkovich.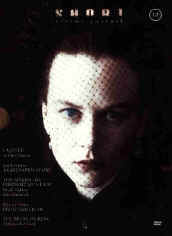 This extensive documentary is included on side two of the DVD. On side one, prepare yourself for another round of eclectic, challenging and humorous short films. For laughs, there's the animated sequel "Bride of Resistor," with animator Mark Gustafson teaching his filament friend a lesson in love. I particularly loved Alison De Vere's animated "Cafe' Bar," a wonderfully witty and creative look at the chance meeting of two people in a small cafe', and the thoughts that run through their minds.
Fred Savage finds himself trapped in a daydream with comic results in "A Guy Walks into a Bar." Savage plays an actor who stumbles into a real live western complete with bad guys and not-so-nice damsels in distress. For fans of Terry Gilliam's "The 12 Monkeys," there's Chris Marker's striking collage of images that started it all, "La Jetee." Get a peak at director George Hickenlooper's new film, "The Big Brass Ring," adapted from a short story by Orson Welles and featuring Malcolm McDowell.
Once again, Ryan Stiles ("The Drew Carey Show") and Sean Masterson play the two Hollywood wannabes scheming to make their blockbuster in a series of funny vignettes that tie the short films together.
COMPLETE CHECK-UP
VISION: [ ] EXCELLENT [ X ] GOOD [ ] RESUSCITATE [ ] D.O.A.
Better than one would expect for such a mixed bag of short films. The transfers are sharp and vivid, even for the lower budget efforts. Good representation of colors and depth.
HEARING: [ ] EXCELLENT [ X ] GOOD [ ] RESUSCITATE [ ] D.O.A.
Hit and miss, but much better than watching these little gems in a church basement in Sundance. The 2.0 and 5.1 Dolby Digital Surround tracks bring the films to life, but don't expect state-of- the-art. Suffice it to say that for the most part the sound tracks get the job done.
ORAL: [ ] EXCELLENT [ ] GOOD [ ] RESUSCITATE [ X ] D.O.A.
No subtitles, but since Irene Cara isn't doing anything these days, maybe she can come over and hold up cue cards.
COORDINATION: [ ] EXCELLENT [ X ] GOOD [ ] RESUSCITATE [ ] D.O.A.
Joachim Solum and Thomas Lein's tale of isolate "Depth Solitude" features alternate audio tracks in French and Swedish. How many DVD's do you know of that have Swedish alternate soundtracks? None. There's also an alternate audio track on "A Guy Walks Into a Bar" featuring the writer, director and producer.
PROGNOSIS: [ ] EXCELLENT [ X ] GOOD [ ] RESUSCITATE [ ] D.O.A.
Once again, the folks at 2014 have compiled together a wonderful, abstract collection of off-beat and off-the-beaten track titles for this latest package.
VITALS: $24.95/Not Rated/Color-B&W/Cardboard sleeve/#440 055 393-2
ATTENDING RESIDENT: John Larsen
PATIENT: SHORT CINEMA JOURNAL 1:2
BIRTH DATE: 1998
HMO: 2014/Polygram