Shawshank Redemption, The
Andy Dufresne, is sent to Shawshank Prison for the murder of his wife and secret lover. He is very isolated and lonely at first, but realises there is something deep inside your body, that people can't touch and get to.
…'HOPE'. Andy becomes friends with prison 'fixer' Red (Morgan Freeman), and Andy epitomises why it is crucial to have dreams. His spirit and determination, leads us into a world full of imagination, filled with courage and desire. Will Andy ever realise his dreams…?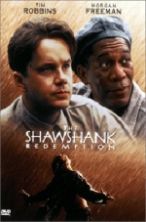 Title: Shawshank Redemption, The
Release Date: 1994
Genres: Drama
Directors: Darabont, Frank
Actors:
Robbins, Tim as Andy Dufresne
Freeman, Morgan as Ellis Boyd "Red" Redding
Gunton, Bob as Warden Norton
Sadler, William as Heywood
Brown, Clancy as Captain Byron T. Hadley
Bellows, Gil as Tommy
Rolston, Mark as Bogs Diamond
Whitmore, James as Brooks Hatlen
DeMunn, Jeffrey as 1946 D.A.
Brandenburg, Larry as Skeet
Giuntoli, Neil as Jigger
Libby, Brian as Floyd
Proval, David as Snooze
Ragno, Joseph as Ernie
Ciccolella, Jude as Guard Mert