Kelly's Heroes
During World War II, Lieutenant Kelly learns of a German bank located behind enemy lines containing 16 million dollars in gold bars. His platoon, led by Big Joe, has three days of R&R coming, so, with the aid of hustler Crapgame, anachronistic hippie Oddball, three Sherman tanks and a touch of irreverence, Kelly leads his men deep into French territory to steal the gold for themselves.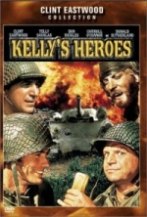 Title: Kelly's Heroes
Release Date: 1970
Genres: Action, Comedy, War
Directors: Hutton, Brian G.
Actors:
Eastwood, Clint as Pvt. Kelly
Savalas, Telly as MSgt. Big Joe
Rickles, Don as SSgt. Crapgame
O"Connor, Carroll as Maj. Gen. Colt
Sutherland, Donald as Sgt. Oddball
MacLeod, Gavin as Moriarty
Buckley, Hal as Capt. Maitland
Margolin, Stuart as Pvt. Little Joe
Morris, Jeff as Pvt. Cowboy
Davalos, Richard as Pvt. Gutowski
Lopez, Perry as Pvt. Petuko
Troupe, Tom as Cpl. Job
Stanton, Harry Dean as Pvt. Willard
Balduzzi, Dick as Pvt. Fisher
Collins, Gene as Pvt. Babra