Christmas Vacation
It's Christmas time – Clark decided to invite all the family to have 'the most fun-filled old-fashioned family Christmas', which nobody shall ever forget. When the first relatives arrive, Clark soon flees on the roof to rig the lighting. The one thing the loving father wants to surprise the whole family with is the installation of a pool, which he already ordered
. Unfortunately, the bonus check Clark expects any minute is overdue – and tempers rise, but not only because of the check. A big event is the arrival of uninvited cousin Eddie with his family in their mobile home, as well as a little sledding afternoon with a new lubricant from Clark's company, or his shifting relationship with the very hip and clean neighbours. Cousin Eddie chooses to top off all presents with his very own special creation, only intending to deliver a real reason to be jolly.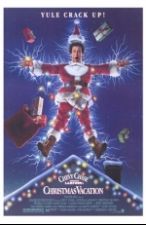 Title: Christmas Vacation
Release Date: 1989
Genres: Comedy
Directors: Chechik, Jeremiah S.
Actors:
Chase, Chevy as Clark Griswold
D"Angelo, Beverly as Ellen Griswold
Lewis, Juliette as Audrey Griswold
Galecki, Johnny as Russell "Rusty" Griswold
Randolph, John as Clark Wilhelm Griswold, Sr.
Ladd, Diane as Nora Griswold
Marshall, E.G. as Art Smith
Roberts, Doris as Frances Smith
Quaid, Randy as Cousin Eddie Johnson
Flynn, Miriam as Cousin Catherine Johnson
Burger, Cody as Cousin Rocky Johnson
Latzen, Ellen Hamilton as Cousin Ruby Sue Johnson
Hickey, William as Uncle Lewis
Questel, Mae as Aunt Bethany
McMurray, Sam as Bill