Adventures of Sharkboy and Lavagirl 3-D, The
Dreamer Max, ridiculed by his classmates, conjures up his perfect dreamworld..
.the Planet Drool. But his dream is more powerful than even he suspects, and his favourite dream super-heroes, Sharkboy and Lavagirl, materialise on Earth. They need help from Max. All is not well in Max's dreamworld. An alien intelligence is interfering and darkness threatens his beloved Planet Drool. Is it true, as Sharkboy and Lavagirl say, that only Max, the powerful dreamer, can stop it? Max takes off on a wild and dangerous journey to the fantastic Planet Drool with Sharkboy and Lavagirl. Can they discover the source of the danger? Will they be able to stop it in time?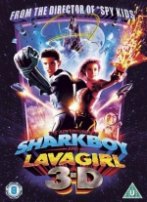 Title: Adventures of Sharkboy and Lavagirl 3-D, The
Release Date: 2005
Genres: Action, Adventure, Family, Fantasy
Directors: Rodriguez, Robert
Actors:
Lautner, Taylor as Sharkboy
Dooley, Taylor as Lavagirl
Boyd, Cayden as Max
Lopez, George as Mr. Electric/Tobor/Ice/Guardian/Mr. Electricidad
Arquette, David as Max"s Dad
Davis, Kristin as Max"s Mom
Davich, Jacob as Linus/Minus
Pieterse, Sasha as Marissa/Ice Princess
Torres, Rico as Sharkboy"s Dad
Musso, Marc as Classroom Kid #1
Graham, Shane as Classroom Kid #2
Darrow, Tiger as Classroom Kid #3
Rodriguez, Rocket as Lug
Rodriguez, Racer as Sharkboy, Age 7
Rodriguez, Rebel as Sharkboy, Age 5