Films review December
SAVING GRACE (R)
"Saving Grace" strives to be one of those cute, charming foreign imports like "The Full Monty" and "Waking Ned Devine." It's set in a picturesque Cornish village, and features a colorful gallery of characters who do unexpected things. Unlike those other comedies, "Saving Grace" never reaches the same high, which is ironic considering it's subject matter.
It stars a totally adorable Brenda Blethyn as Grace, a recent widow still trying to figure out how her late husband met his fate. Living quietly in a comfortable estate, Grace is also trying to reconcile the fact that her late husband was also involved in an affair. It's a lot to take in, but that's not the kicker. Click title for complete review. (New Line)
SMALL TIME CROOKS (PG)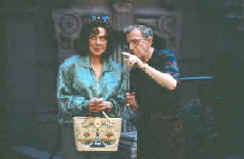 All roads lead home, so it's not surprising that filmmaker Woody Allen returns to his roots 31 years after he wrote and directed "Take The Money And Run." His latest, "Small Time Crooks," is a reflective comedy that proves everything old is new again. With the daft assurance of his earlier work and the bold strokes of his recent, "Small Time Crooks" emerges as the perfect Woody Allen film for the new millennium. Like the cookies that prove central to the plot, "Small Time Crooks" is a delicious treat. Every bite delivers a feast filled with scrumptious dialogue and rich performances. Click title for complete review. (DreamWorks)
WHERE THE MONEY IS (PG-13)
God bless Paul Newman.
He's been around so long that sometimes we take him for granted. Even when he's in a bad film, I've never seen a bad Paul Newman performance. Although he prefers to dabble in salad dressing and popcorn, Newman is like a fine wine. He only gets better with age. Newman is terrific in "Where the Money Is," a breezy crime caper with catchy dialogue and likeable characters. He plays Henry, an aging convict who fakes a stroke so he will be transferred to a less-restrictive senior center. Click title for complete review. (USA)
ALSO NEW THIS WEEK:
ART OF MURDER, THE (R/Avalanche)
BLOWIN' SMOKE (R/Avalanche)
FLOATING (NR/Winstar)
L'ENNUI (NR/Winstar)
POOCH & THE PAUPER, THE (NR/Walt Disney)
VICE GIRLS (R/New Horizons)